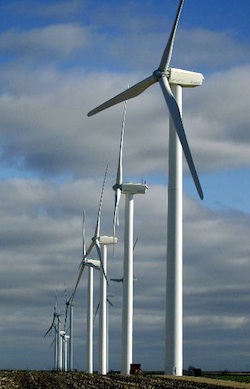 An appeal board has dismissed a Heyden man's attempt to stop a 25-MegaWatt wind farm project north of Sault Ste. Marie, says a group that has lobbied against the the project.
The Ministry of Environment approved the project in October and an Environmental Review Tribunal heard the appeal in December.
SP Development Limited Partnership's 11-turbine project is to be built in the unorganized townships of Pennefather and Aweres.
Save Ontario's Algoma Region, one of two local groups opposed to wind farm development, sent a message to media thanking those who spoke at the hearing in support of Moseley's case.
"Their concern for the health and safety of the area residents and their concern for the economic well-being of Algoma have gone, if not unheard, then unaddressed," wrote Gillan Richards, a member of the SOAR executive.
Anyone appealing the Green Energy Act process is required to provide evidence that a wind farm will be harmful to human health, wildlife and the environment.
"The appellant has not established that the project will cause serious harm to human health due to LFN/IS, audible noise, shadow flicker, stray voltage, electromagnetic fields, visual impact, or fires," says a copy of the tribunal's decision provided to SooToday.com by SOAR. "As a result, the tribunal concludes that the appellant has not shown that the project, operated in accordance with the REA, will cause serious harm to human health."