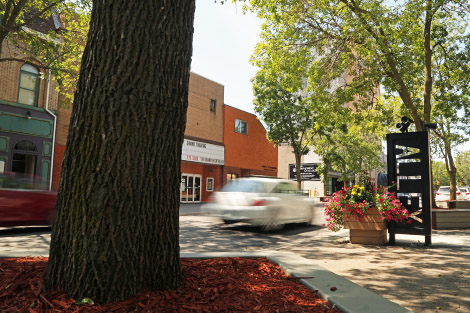 Time is running out for the 164 ash trees that line Queen Street between Pim and Dennis Streets, says the Downtown Association.

Tasha Varpio, manager of the association, said the treatment of the trees against the emerald ash borer was not included in the last city budget.
"That's a concern, they are on city property but they are for all of Sault Ste. Marie to enjoy", said Varpio.

The city is responsible for the ash trees present in parks and along downtown streets and the treatment lasts about two years said Larry Girardi, commissioner for Public Works and Transportation for the city.

"From our perspective the tree not being treated causes a problem because they were supposed to be treated this year," he said.

Varpio said the treatment is not a cure, and if left untreated she has been told the trees will last another two to four years.

Girardi said that council still has time to find the money for treatment before it is too late.

"Will they die right away? Probably not," said Girardi, who added as long as the trees are treated by the end of August they should be protected for another two years.

The Downtown Association sent out a survey to its members on Monday asking about the future of the trees, including whether they should be replaced.
UPDATE:
Ward 2 councillor Susan Myers contacted SooToday.com Tuesday evening to mention that the issue of treating the trees was brought forward by Ward 1 councillor Steve Butland at the last council meeting.
"I think it is critically important to our downtown and to our community to preserve the trees," said Myers.
She has offered to second a motion to treat the trees and hopes that all members of council will vote in favour.
Myers said she believes the figure to treat the elms was around $30,000 and hopes the money can come from the current budget from funds earmarked for unforeseen expenditures.
(Ash trees seen lining the streets of downtown Sault Ste. Marie on July 29, 2014. SooToday.com/Kenneth Armstrong)