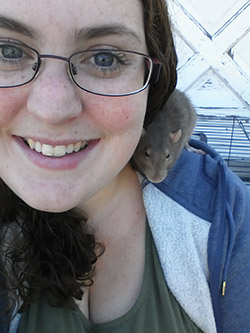 SooToday.com received the following letter today from faithful reader and animal lover Kylie Payeur who may have the perfect 'pocket pet' for your family.
*************************
My name is Kylie Payeur, I am 22 years old, and dedicated to a life of helping animals in need.
The Cavy Corner Small Animal Rescue has been in operation since 2011.
It is a non-profit, no-kill rescue that focuses on "pocket pets".
In the past three years, I have helped rescue and rehome over 100 animals, including (but not limited to) guinea pigs, rats, ferrets, rabbits, birds and hamsters.
The rescue is run directly from my home, and is my heart and soul; my whole life revolves around these animals, and making sure that they are happy, healthy, and loved.
Many animals come from highly unsuitable conditions, and often require immediate veterinary care upon arrival.
These animals are given everything necessary to ensure that ALL of their needs are met.
While they are here they are treated like members of the family; they get proper nutrition, housing, socialization, and medical care.
Spring/summer is a very critical time in the animal rescue business; we often get up to five new requests per day to take in new animals.
Baby animals are arriving all over the place, and children are out of school which means pet stores sell a lot more animals (which then often get turned in to the rescue when their novelty wears off, or when school starts up again).
With the lack of recent adoptions, we have been forced to say "no" a lot more than we would like to.
In order for us to be able to rescue more animals, we need to have some adopted out.
There are currently 10 animals up for adoption through The Cavy Corner; two female rabbits, two male guinea pigs, two male rats, three female rats, and one female hamster.
Half of these animals have been here since before Christmas.
It is very hard watching the animals spend their lives in a rescue, having to share attention with so many other animals, when they could be in a family all their own, being showered with the affection that they so desperately crave.
Educating people about these wonderful animals is also so important.
It isn't just dogs and cats who need rescuing; many people do not even realize that rabbits are the 3rd most abandoned animal on the planet (next to cats and dogs), and other small animals are often viewed as "disposable".
A rat or hamster is no different than any other domestic pet; they build strong relationships with their owners, they love attention and affection, they need food and medical care, just like any other animal.
Just because they are small, or inexpensive, does not mean that they do not deserve to have a good life.
We have a website; www.thecavycorner.com and we also have a Facebook page under The Cavy Corner Small Animal Rescue.
If interested in adopting, please contact us either at thecavycorner@hotmail.com or 705-297-9777 to fill out an adoption application!
If anybody is interested in donating, please note that we do NOT accept cash donations.
Cages, food and supplies are always appreciated, and needed.
*************************