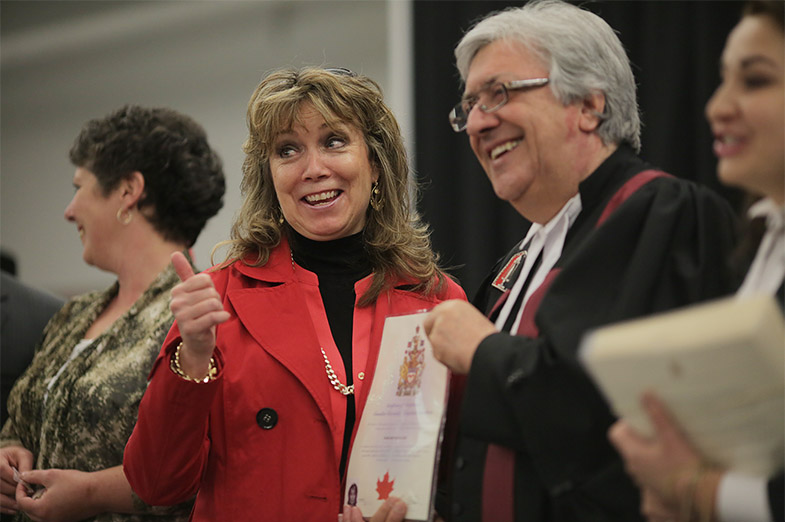 A raising of the hand and repeating of an oath to Canada was the last step of a years-long process for 35 people becoming Canadian citizens Friday afternoon in Sault Ste. Marie.

The ceremony was held at Sault College as a part of the Passport to Unity event.

For Peggy Lund, the process started 38 years ago when she married her husband and moved to Canada.

She spent most of that time holding Permanent Resident status, thinking in the back of her mind that she would need to keep the American citizenship if she ever decided to move south when she retires.

Upon her most recent renewal, the attendant asked if she had considered dual-citizenship.

"That was an eye-opener to me, I didn't know I could do that," said Lund.

Additional factors swayed Lund to take the plunge, including participating in the upcoming federal election.

"It's time to vote. Being here 38 years, Canada is more my home than the States is," she said.

Voting was one of the tenets preached to the applicants by presiding citizenship judge Angelo Persichilli, who previously served as Prime Minister Stephen Harper's director of communications.

"If you like the government, vote for the government. If you don't like the government, vote for someone else, but vote," he implored.
Persichilli was himself an Italian immigrant, who moved to Canada to work as a journalist prior to taking up the post in the PMO.

He said accepting new citizenship does not have to mean losing one's identity.

"Being Canadian does not mean you can't be who you were. You can build on it. Canada is not asking you to give up your identity," he said.

Mayor Christian Provenzano participated in the ceremony as the city's representative and reflected on his own grandfathers who immigrated to Canada generations ago.

"I think of their experiences often and how hard they worked and how much of an effort they made to give back to their families and to their community," said Provenzano.

This was the first citizenship Provenzano has ever attended in any capacity.

"It's nice to see the excitement on someone's face as they come up to get their citizenship certificate," he said.

The highlight of the ceremony for Provenzano was the singing of 'Oh Canada' led by grade 3 students from F.H. Clergue Public School, which the newly sworn-in attendees sang for the first time as fully-fledged citizens of Canada.

The 35 applicants for citizenship came from 23 countries and spanned all age groups, many were sworn in together as a family.

Javier Santoro, originally from Argentina, was sworn in alongside his wife and three of his children. Their fourth child was born as a naturalized citizen of Canada.

He has held Permanent Resident status in Canada since 2008, but decided three years ago to become a fully-fledged citizen.

"To my mind, one day I say 'I need to be Canadian' and I applied," said Santoro.

As with some others, the ability to become involved in politics was among his reasons for applying.

"You need to be a citizen to be involved more in the city and decision for politicians… to vote," he said.

As for Lund's Permanent Residence card?

"They took that away today. I understand why, but now I am like 'uh-oh' I have no travel documents," she said, smiling.
(PHOTO: Peggy Lund gives a thumbs up during a citizenship ceremony as part of Passport to Unity on May 1, 2015 at Sault College. Kenneth Armstrong/SooToday)