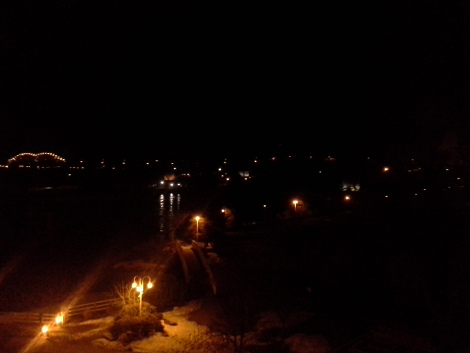 Residents in the downtown core have noticed that there is something missing from the evening skyline.
For the last two weeks the lights that illuminated the Canadian side of the International Bridge, have been strangely dark.
Readers have written with the question: What happened?
The people who run the bridge say they are aware of the issue and are currently working to fix it.
Each side of the bridge is responsible for their own lights and maintenance.
The outage is the "result of an electrical line that serves the lights from the Canadian compound that has failed," said Phil Becker, general manager of the International Bridge Authority.
"We have since located the failure point and have an electrician working on repairs," said Becker.
Previously, the bridge was adorned with red and white string lights in celebration of the structure's 50th anniversary.
The decorative lights have since been rendered inoperable after running for two years, as they were designed to be a temporary installation.
Becker reports that repairs for the lights are expected to finish up nearing the end of the week, weather permitting.
(PHOTO: Reader Janice Anderson provided this photo showing the lights out on the Canadian arch of the International Bridge.)