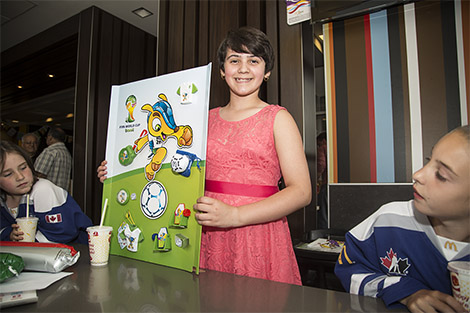 Ten-year-old Cassandra McAuley dreams of escorting the Italian team onto the pitch during the 2014 FIFA World Cup.

The easy part is done, thanks to McDonalds.
She will be travelling with her mother to Rio de Janeiro to act as a player escort for the July 4 game.

"We have a little practice, we walk out with the players and do the national anthem," said the fourth-grader.

The hard part will be whether or not the Italian team can stave off elimination until then.

She will be one of just five player escorts selected by McDonalds Canada from their atoMc Hockey program to travel to the World Cup.

Cassandra said she was selected because of her sportsmanship on and off the field, and was nominated by her hockey coach.

"It was kind of like a contest. McDonalds was sponsoring us for our hockey team," said Cassandra.

Mike Butler, who owns the McDonalds franchises in town, is happy to see her represent Sault Ste. Marie.

"Cassandra does so much stuff in the community. She plays everything, she's into everything. Really a great kid," said Butler.

He asked Cassandra to volunteer her time during the recent McHappy Day after she was selected for the player escort program.
He felt there was an added significance because she was a Sick Kids Hospital patient when she was an infant.

"One of things that always hits home in Sault Ste. Marie is the number of kids and families that have stayed at the Toronto Ronald House," said Butler, who estimates the equivalent of 600-700 nights a year are spent there by Sault residents.
Prior to coming to the Sault seven years ago, Butler sat on the fundraising board of Ronald McDonald House Toronto.

Although the family didn't spend time at the house themselves, it was good to know that the resource was available in their time of need, said her mother Carolyn Caputo-McCauley.

"It's the most wonderful place in the world, but you don't want to visit it if you don't have to," said Carolyn.

She added that the McDonalds organization has been amazing throughout the process, and even assisted the pair in getting their visas and other paperwork prepared.

McCauley is already well-travelled, despite her age. Greece, Spain, Italy and Jamaica are among the many countries she has been to on family trips.

Even so, the experience of walking on to the pitch at a World Cup match will be a once-in-a-lifetime experience for her, said Carolyn.

"It's been kind of a whirlwind because we never expected it in a million years and she's totally thrilled about it," said Carolyn.

Cassandra is really excited to be making the trip with her mother. They have been taking sneak-peeks at the tourist sites they will be visiting on YouTube.

"I think it's going to be great," said Cassandra.