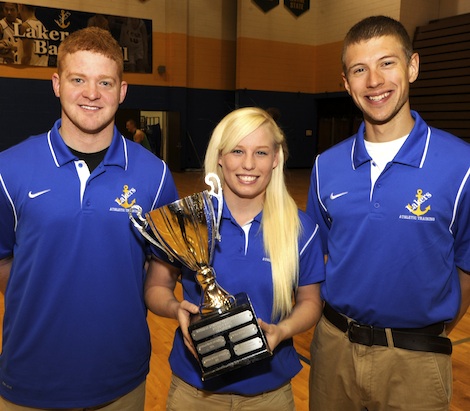 NEWS RELEASE
LAKE SUPERIOR STATE UNIVERSITY
*************************
GLATA bound
Members of LSSU's Student Athletic Training Association pose with the MATS Cup they brought back from the ninth annual Michigan Athletic Trainers Society Student Seminar and Quiz Bowl, held last November.
Ryan Peroceschi (left, from Norway, MI), Amy Olar (Sault Ste. Marie, ON), and Mike McPherson (Ironwood, MI) beat 24 other Michigan university teams in a Jeopardy quiz show competition that challenged them on athletic training skills.
The team is currently representing Michigan at the annual Great Lakes Athletic Training Association Quiz Bowl, which is being held during a regional meeting March 12-16 in Wheeling, Ill.
The winner from the GLATA Quiz Bowl will then represent the Great Lakes at the National Athletic Trainers Association national meeting in Las Vegas in June.
LSSU photo by John Shibley
*************************