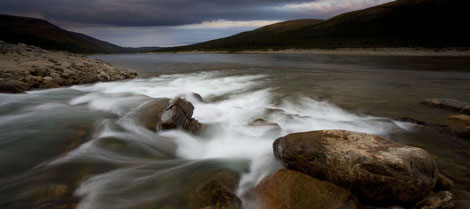 Thanks to the generous support of Joes Sports and Quattra, local celebrity environmentalist and Sault Ste. Marie Walk of Fame inductee Gary McGuffin is checking in from spots along the way on the latest expedition with the Wilderness River Expedition Art Foundation.
This year's expedition will paddle and explore the Noatak River in Alaska.
SooToday.com visitors are invited to share questions for McGuffin in the comment section below.
Here is the latest on the spot update from McGuffin.
*************************
We've got a really big wind storm that's come up and it's sort of pinned us down.
We're talking about whether it's worth breaking camp right now and heading out on the river or whether we should just sit tight.
The rain was not that bad and it's stopped now but it's just really, really windy.
We've dropped the kitchen tent down because we thought it was going to blow away and we've reinforced all the tents to sit out this wind.
I'm way back off the campsite and low down amongst some vegetation just to get out of the wind so I can hear you.
(McGuffin is communicating via Satellite phone.)
We've come out of the mountains so we're right out onto the open tundra and, when we look to the northwest, it's flat as far as we can see and when we look back upstream we can see see the mountains from which we just came.
What we're seeing is all bush.
We're above the tree line.
It's almost like tiny willows that I'm huddled down amongst right now and they're about five feet tall and that's about the only vegetation that we're seeing right now.
This is Alaska and it's amazing - I mean, we were just looking at the map of Alaska and you look at the width of the entire state of Alaska and it's as wide as the entire lower 48 states.
So, because of the intense winds and the extreme cold, everything is really short and stunted.
Yesterday was a particularly exciting day [on the Noatak river] because it was all class two rapids with some class three drops.
Right from the morning all the way to the finish of the evening it was all white water, white water, white water all day long.
It was very exciting.
Bob Hansen, whom I've paddled with for 25 years, said it was probably his best white water paddling day in his life.
You have to remember that our three bow people, Linda, Sandy and Trish, have never paddled before so this is really exciting for them because they're sitting in the bow looking at all these huge standing waves coming at them and the water breaking over the bow and landing in their laps.
They're real troopers and they're just really eating it up.
[As we go along] we're teaching them how to read the water, how to paddle - like when we come up against something where we have to back paddle, or do an eddie turn - it's all brand new terminology to them but they're really picking up on it very quick.
I can't believe how in good spirits everybody is [even though] it can be pretty intense paddling through these big rapids.
The water is really cold, it's all glacier-fed water.
I've been swimming three times - I jump in and jump out.
But now the river is just starting to widen out and it's almost as though we're paddling a river within a river because the water is down enough where we really have to scout ahead to find the deep Chanel through.
We've been shooting photographs as we've been running down some of these rapids and it's really neat the way the sun is breaking out through the clouds and hitting these slopes of green that we're seeing extend for miles and miles and miles.
We've all got binoculars and we're looking for the muskox and caribou.
We saw our first caribou the day before yesterday but we've heard that the big migration has already started so I assume that, as we get further down the lake, we're going to see more and more of them.
Right now, just in front of me, I'm watching a little siksik - they look sort of like a small groundhog - and there's been a fox chasing after him.
Sort of like a game of fox and siksik instead of cat and mouse.
Now we're starting to see golden eagles, too - about every five or six miles we see an new pair of golden eagles and we came across a couple of their nests that we could see high up on the bluffs.
There's lots of dall sheep on some of the islands but we're going to be out of their habitat now as we head into the muskox and caribou habitat so we're going to be looking for a lot more of those.
All these beaches where it's kind of muddy and there's loose sand you can see muskox, caribou, bears and tundra wolf tracks.
A lot of life is leaving a lot of evidence of itself but we just haven't seen the muskox and the caribou in any numbers, yet.
I'm pretty sure everything is seeing us - we're just not seeing them.
But, overall, everything here is going along very well.
A few hours later, McGuffin called Joanie, his wife, and told her the group had seen their first herd of caribou when about 30 of them crossed the river ahead of them.
To see where the expedition is now, please click here
*************************
Earlier SooToday.com coverage of this story