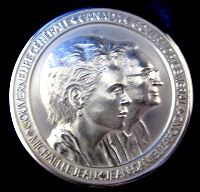 NEWS RELEASE
ALGOMA UNIVERSITY
*************************
As part of the ceremony honouring the graduates, the University will confer an Honorary Degree, a Doctor of Science, on Errol Caldwell. Caldwell has been a defender and supporter of science-based and conservation-minded economic development and growth in Sault Ste. Marie.
Caldwell has worked for over 22 years with the Canadian Forest Service on Biotechnology, pest control, and invasive species management in Sault Ste. Marie.
In 2005, he created Science Enterprise Algoma, a non-profit organization, which promotes connections between the life sciences and commercialization, which later merged with the Sault Ste. Marie Innovation Centre in 2008.
Caldwell is currently an advisor to the Rural Agricultural Innovation Network (RAIN) and is the Managing Director of the Invasive Species Research Institute at Algoma U, which he helped to develop.
He was instrumental in advocating for the local food festival Eat Algoma, which attracted 2,000 participants in 2014, and has helped secure funding through grants for biology faculty members at Algoma U. Caldwell also worked with the University to spearhead the Remedial Action Plan for St. Mary's River.
Justus Veldman, CEO of Riversedge Development, will be recognized as an Honorary Member of Algoma University, an award granted by the Algoma University Senate.
The award is presented to individuals who have contributed distinctive and distinguished service to Algoma University, as well as the community.
Initially, Veldman came to the community as a representative of the company who had purchased St. Marys Paper.
Falling in love with the site and the infrastructure, Veldman has undertaken a massive urban renewal initiative, which includes a market, insectarium, recording studio, concert hall, and later, a new station for the Agawa Canyon Tour Train.
The original Administration Building and Machine Shop have become homes to Algoma U's Music and Fine Arts program, which has allowed each academic program to grow in numbers and attract students from outside of the community to study at Algoma U.
Madeleine Brodbeck is receiving the Governor General's Silver Medal for exceptional academic achievement. Established in 1873, the medal is one of the most prestigious awards that can be received by a student in a Canadian educational institution.
The Silver medal is awarded to the undergraduate student who achieves the highest academic standing upon graduation from a Bachelor's degree program.
"Convocation is a special day when the University has an opportunity to highlight the academic achievements of our graduating students," added David Marasco, University Registrar. "This Convocation will be exceptional since we will be recognizing our largest class as well as installing our first Chancellor."
Anyone wishing to attend should contact the Office of the Registrar for more information by emailing regoffice@algomau.ca or by calling the University at 705-949-2301, ext. 4216.
*************************