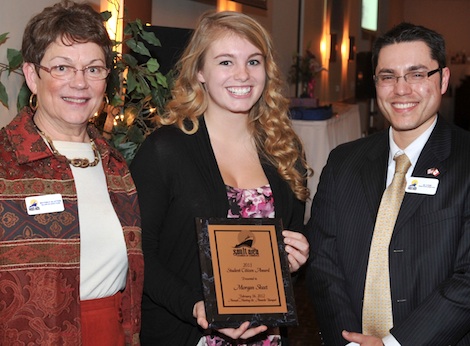 NEWS RELEASE
SAULT AREA CHAMBER OF COMMERCE
*************************
2012 Student Citizen of the Year Award

The Government, Economic, and Education Affairs Committee (GEEAC) of the Sault Area Chamber of Commerce would like to remind the public that this Friday, February 8 is the final day to submit nomination materials for the Student Citizen of the Year award to recognize contributions of a Chippewa County high school student to the community.
The award will be presented at the Chamber's annual meeting and awards banquet on March 7 at Lake Superior State University.

One of the goals of the GEEAC is to honor those individuals who take the role of civic responsibility as a worthwhile and earnest endeavor.
This award was designed to acknowledge volunteerism, community spirit, and citizenship.
The GEEAC feels it is of the utmost importance to cultivate and reward good citizenship in future generations and this reward serves as a reflection of the value placed on such efforts.
[In the photo] Student Citizen Morgan Skeet, recipient of the 2011 Student Citizen of the Year Award, poses with GEEAC Chair, Beverly Slayter of Superior Travel, and Al Case, executive director of the Sault Area Chamber of Commerce at the February 2012 Annual Meeting and Awards Banquet.

For the 2012 award year, the GEEAC will honor one high school student from Chippewa County with a check for $1,000 in recognition of their service.
Additionally, if the student attends Lake Superior State University on a full-time basis, the student will also receive a $1,000 scholarship (to be applied to their first year's tuition).

An informational sheet as well as nomination guidelines are available at the Sault Area Chamber of Commerce homepage.
Nomination materials are due this Friday, February 8 at 5 p.m.
If you have any questions, please contact the Chamber office at 632-3301 or via e-mail.
*************************