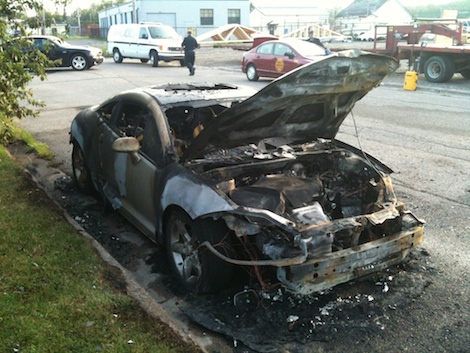 Matt Carbone came home late Saturday night and parked his 2006 Mitsubishi Elipse GS on the street in front of his father's house on Dundas Street.
The 25-year-old woke hours later to find the street cordoned off by police and firefighters.
The car was destroyed, its silver paint burned from the exterior, its tires melted onto the pavement.
Carbone, who bought the car in December only to find himself delivering it to a scrapyard on Thursday, says he was crushed and hopes someone will turn the culprits in to police.
"It's only a car, but the fact is I worked very hard to afford it," he said.
Carbone's car fire is the latest in a string of suspicious blazes to hit the city's downtown.
Police are investigating, said Const. Troy Miller, but no charges have been laid and so far there is nothing that links the fires to each other.
A vehicle was severely damaged and a garage was destroyed by fire in a series of three fires on Wellington Street East that took place on Aug. 2.
Days later, police investigated a suspicious fire on Cunningham Road, and on Aug. 23, another suspicious fire took place at an apartment building on 38 Wellington Street East.
"Each individual occurrence is being investigated," said Miller.
Carbone now finds himself taking the bus to work, but he said what hurts the most about losing his car is the fact that he spent so much time saving for it.
"It felt so good to be able to buy something I've worked so hard for. All of a sudden, it's gone," said Carbone.
"It sucks big time and I want people to know."
(PHOTO: Matt Carbone's car sits on Dundas Street the morning after it was set on fire. Photo supplied)
************************
Previous SooToday coverage of this story:
Garage fire on Wellington East