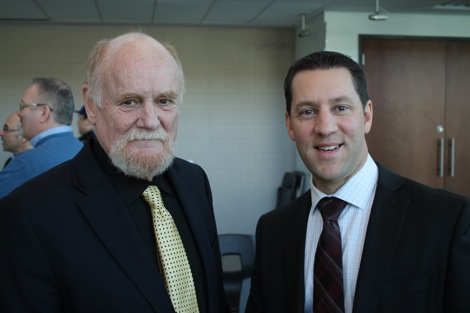 Sault College President Dr. Ron Common says he loves it whenever Sault Ste. Marie MPP David Orazietti comes to visit the campus, because he usually arrives with a funding announcement that benefits the postsecondary institution.

Today was another example why.

Orazietti was on hand at the College's Essar Hall to announce that the province is providing an additional $1 million for the construction of an enclosed link that will connect a new Student Health and Wellness Centre, currently under construction, to other campus buildings such as the new Academic Building.

It is anticipated the Health and Wellness Centre will be completed by May.

Common told SooToday.com it is important, given our winter climate, to have Sault College buildings connected.

Originally the link was envisioned by College officials to be 8,000 square feet in size, but given the $2.5 million budget, the plan was trimmed to 7,000 square feet.

The link, Common explained, is "not just a tunnel" but actually incorporates three sides of existing buildings to be turned into a workable space.

"It's going to have retail space where we can have a number of health-oriented businesses open up, it certainly has student space with computer monitors, and there will also be a breakout to an Aboriginal Healing Centre. We are going to take down some of the existing walls so it flows into that as well. There'll also be student run businesses in there as well."

The balance of the funding for the $2.5 million link comes from a corporate donation from Tenaris Algoma Tubes, as well as from grant applications and funding from the College's $6 million Inspiring Growth Capital Campaign currently underway.

Common told us the Campaign has reached $4 million and is confident of reaching the $6 million mark.

Orazietti said today's announcement of an additional $1 million for the link "is absolutely fantastic news for the College."

Orazietti told SooToday.com: "Given the economic times and economic challenges, and the provincial budget restraint measures that are being taken, this was no small feat. I'm extremely pleased that new infrastructure dollars are available at this present time, because right now they are extremely challenging to come by."

Looking ahead, both Dr. Common and Sault College Vice-President Academic and Research Leo Tiberi told us the College will be submitting plans for a new Institute of Energy and the Environment.

"The two Es in 'Energy' and 'Environment' is why we're also calling it 'E2'," Tiberi said. "The whole purpose is to capitalize on our strengths with our programming in natural resources, environmental studies and renewable energy, and link them to what's going on with the City."

"We want to be ready for the next 10 years to address the needs of industry and students as they relate to the growing renewable energy sector, smart grids, energy efficient vehicles. Everything that the City is trying to do, we're trying to match," Tiberi continued. "Our existing programs in Fish and Wildlife, Forestry, Natural Environment, technology... all of these are resource-based programs that address what's happening in the North. By blending that with what is happening in the renewable energy sector, we want to create a dynamic space that also involves the private sector."

"We want companies to locate in the space we're proposing, so that our students can be working with companies on campus, in the labs, where they will be learning and working with these companies."

Tiberi said Sault College is still planning its proposal for E2, and that a concept will be introduced in the next six months.
To view site plan images, please click here.

A news release issued today by the office of David Orazietti regarding today's funding announcement follows.

****************************
Orazietti announces $1 million for new infrastructure at Sault College

Provincial funding provides important link for college students

SAULT STE. MARIE - Today, David Orazietti, MPP was joined by Dr. Ron Common, president of Sault College, to announce that the province is providing an additional $1 million for the construction of an enclosed link to connect a new Student Health and Wellness Centre currently under construction to other buildings on campus, such as the new Academic Building.

"The Province continues to make substantial investments in infrastructure improvements at Sault College because we are committed to further developing innovative programs and attracting more students to the school and our community," said Orazietti. "Our government's support for the new Academic Building and the Health and Wellness Centre, as well as other initiatives has revitalized the Sault College campus and provided students with a new state-of-the-art facility to support higher learning."

Provincial funding through the Ministry of Training Colleges and Universities (MTCU) is being provided to build an all weather link that will ensure student mobility and barrier-free access throughout the campus.

"The new Health Hub will be surrounded by student services, commercial activity, meeting spaces and a lounge area making it a vibrant focal point for student activity and social life within the College," said Dr. Ron Common, president of Sault College. "We are very grateful to MTCU for their contribution to student life on campus."

"On behalf of all the students at Sault College, I would like to thank the MTCU and David Orazietti for the funding to complete the hub," said Jordan Borneman, president of the Sault College Students' Union. "This space will greatly improve student life at the college. We are excited to experience the many new opportunities this new space will offer in terms of activities, events and initiatives."

The state-of-the-art Health and Wellness Centre is the latest addition to Sault College and will provide new lab and academic space for programs such as chronic disease management and gerontology.

A new Student Life Centre will also provide meeting and study space for students.

The construction of the Health and Wellness Centre and the new enclosed link is creating approximately 100 local jobs.

The Ontario Liberal government has made improving postsecondary education a top-priority.

More specifically, tuition was frozen for the first time in Ontario for two years during a post-secondary education review, while investments in student aid have more than doubled and future undergraduate tuition increases have been capped.

Additionally, upfront tuition grants to students have been restored, 200,000 new postsecondary spaces have been created and operating funding for colleges and universities has increased by 81 percent.

****************************