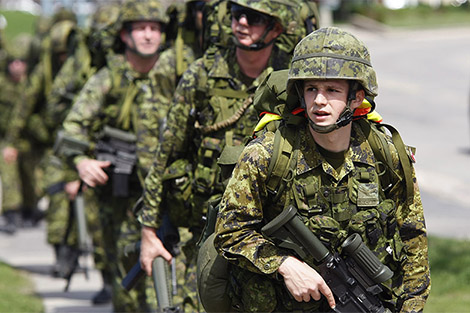 Members of the 49th Field Artillery Regiment completed a 13 kilometre march along a portion of the John Rowswell Hub Trail Saturday morning.

The army reservists began the march at Third Line and headed west through the Fort Creek area, along Carmen's Way and through downtown Sault Ste. Marie.

Male and female soldiers carried 50 to 54 pounds of field gear, including rucksacks, helmets, weapons and tactical vests, said unit public affairs representative Second Lieutenant Leila Mehkeri.

"We carried equipment we would use in the field," said Mehkeri.

Master Warrant Officer Stephen Leask had utilized the hub trail for bike rides in the past, but this was his first time marching in full field gear.

"It's a beautiful day, a nice walk but it's challenging (because) you're carrying a fair bit of weight on your body," said Leask.

The march detoured along Queen Street and ended at Bellevue Park, where family and friends were invited to join the reservists at a barbecue, Leask was greeted by his wife and young son.

"The support that the families give is what allows these guys to do their jobs, and for the families it's a good opportunity for them to be part of the regimental family," said Leask.

This was the second such march that Gunner Elijah Malleau has completed, his first being in basic training.

He says the trick is to keep the kit as tight to your body as possible to avoid shifting. "At first it doesn't feel bad, but you start to notice even the smallest movement in your kit, said Malleau.

The march was to be completed within two hours and twenty-six minutes, which is a requirement of the Canadian Army's Battle Fitness Test standard.

"We achieved the time we were looking to achieve and everyone made it here," said Leask.

"We are an artillery unit, which means our role is to provide indirect fire support to ground battles. In the artillery we are required to fight as infantry if required, so we do marches to ensure we are physically fit and maintain that level of fitness," said Mehkeri.

Malleau said while marching he could feel the hot spots where blisters start to form.

"After a while the best way to get through it is to take in the scenery and continue to move forward," added Malleau.
(PHOTO: Gunner Elijah Malleau marches with the 49th Field Artillery Regiment May 24, 2014. SooToday.com/Kenneth Armstrong.)