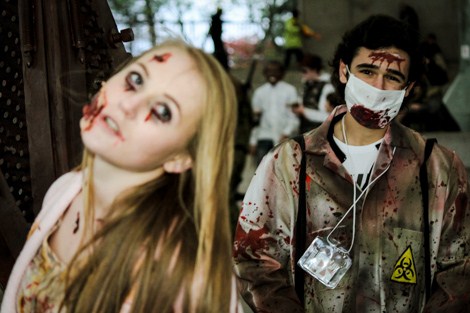 NEWS RELEASE
ARTS COUNCIL OF SAULT STE MARIE
***************************
Soo Zombie Walk Committee invites you to be a vendor at Zombie Walk 2014

With the Soo Zombie Walk less than two months away, the Soo Zombie Committee of the Arts Council of Sault Ste. Marie and District and their partner the Soup Kitchen Community Centre are preparing for that haunting day in October and, this year, they want you (businesses, schools and individuals) to lend them your talents and ideas.

"Last year was fun because we began a lot of new activities, including having games and food before the walk. This year, we want to make it even better by having the community get more involved," says Liz Cooke, Zombie Walk organizer from the Arts Council of Sault Ste. Marie and District.

In 2013, the Soo Zombie Walk Committee planned games such as a brain (jell-o) eating contest and had a couple vendors selling treats fit for zombies, but in 2014, they want more of your creativity!

Vendors are invited to sell food, art, or game tickets by purchasing a table for $25, or have a zombie-themed information table to talk about their not-for-profit initiative for free.

"You can have a game or contest or anything you want, as long as it's safe and zombieriffic, we want it there!" says Cooke.

The Zombie Walk will take place on October 26, 2014 at the Canadian Bushplane Heritage Centre from 2 p.m. to 7 p.m. with the walk at 6 p.m.
As well as all the great ideas brought forward by the zombies of our community, the aspects you've come to look forward to, including a makeup table provided by Perfectly Painted Faces and a photo booth, will be available before the walk with zombies and resistance in the downtown core.
To keep updated, visit www.soozombiewalk.org

If you have an idea and want to hold a game or have a table at the Zombie Walk, contact Liz Cooke at the Arts Council of Sault Ste. Marie and District at 705-945-9756 or artscouncilssm@gmail.com
***************************