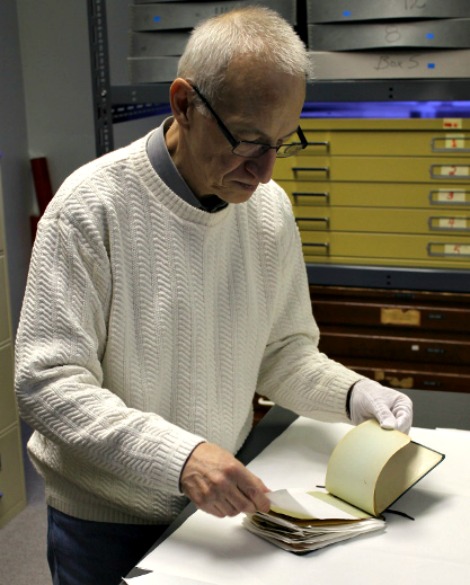 The Sault Ste. Marie Museum is a fascinating showcase of items that tells the story of Sault Ste. Marie through large, permanent exhibits as well as a multitude of smaller items on display.
A new addition to that vast collection of smaller items is a quaint souvenir album, donated to the Museum in December by a local citizen, which tells the story of a local hockey team in words and photographs from a bygone era.
The Pim Hill Bullies were lads who played on outdoor rinks in Sault Ste. Marie from 1930 to 1941, and, long before women's hockey came into its own, the team had a female version known as the Bullets.
Sault Ste. Marie Museum Director and Curator Kim Forbes (pictured) was performing final, careful preparation of the souvenir album before putting it into archival storage when SooToday.com visited the Museum Friday.
Forbes told us: "The album represents quite a significant little part of Sault Ste. Marie."
"It represents hockey, which of course is nothing new to Sault Ste. Marie, but it represents a time in the Sault's history when it was the era of the outdoor rink (before teams played in modern community centres)."
"There are a couple of photos of what they called "the new ice palace"…it was a new rink with a new shack that had been built," Forbes said.
The souvenir album contains photographs of the team and team members names are listed.
Forbes told us it is remarkable that "someone took the time and typed in some of the original history of the team and dated it by year."
"This team won championships and this little book captures life in the 1930s."
"That was the era of The Great Depression, and there was no money left after you put food on the table, so kids got together and made their own entertainment, so they got together and played, wore borrowed skates and equipment and had fun."
"It wasn't like the organized teams you see today, it was more for fun."
As for the female Bullets team, Forbes said: "It's interesting because today a lot of people think girls playing hockey is still quite a radical thing, and this proves there was a girls hockey team functioning and playing quite significantly in the city 80 years ago."
"This book captures a remarkable part of the Sault's history."
Forbes said the souvenir album will go on display but cannot be touched, as substances like oils from a person's skin will harm it.
Thanks to modern technology however, the album has been digitized.
"If someone wants to see it, they can give us a call and say 'I'd really like to come in and take a look at it,' and we'll set up a time for them to come in."
"They'll be able to come in to the office and sit down in front of the computer and they'll be able to see a digitized version of the whole book, page by page."
"A lot of people could have a connection to someone in this book…they may find a relative in this book."
Forbes said: " It's one of the things that relates specifically to the Museum's mandate of collecting and preserving the history of Sault Ste. Marie."
"Each item that comes in gives another glimpse into what life was like in Sault Ste. Marie at certain periods in time."
In regards to sports alone, there are many fascinating items on display at the Sault Ste. Marie Museum.
Check some of them out in our photo gallery, or better still, go to the Museum and view them.
There is something at the Sault Ste. Marie Museum to arouse anyone's historical curiosity, whether in sports or other areas.
View photo gallery for this story, click here.
To enjoy a three-part story written on the Bullies era, originally published by SooToday.com in December 2012 click the links below.
Part 1: The Pim Hill Bullies 1930-1937 (5 photos)
Part 2: Reds. Whites, Blues 1938-1939 (14 photos)
Part 3: The Bullies and Bullets 1939-1941 (14 photos)
Where in the world are the Pim Hill Bullies (video)
*****************************