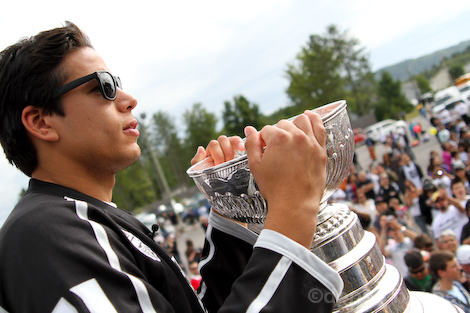 NEWS RELEASE
GARDEN RIVER FIRST NATION
*************************
Garden River First Nation is pleased to announce details of the Stanley Cup celebration in honour of its own Jordan Nolan, a member of the National Hockey League champion Los Angeles Kings.
A mini pow-wow ceremony featuring guest speakers, traditional dancing and fire will be held Friday August 8 from 12-1:30 p.m. at the Garden River Pow Wow Grounds located on Point Charles Road.
The general public is invited to attend the event.
Jordan and his family will travel with the cup to the celebration aboard a Garden River Fire Department vehicle.
They will leave the fire hall on Shingwauk Street att 11:30 a.m. and proceed along Highway 17 B to the pow wow grounds.
An itinerary of the celebration follows:
11-11:20 a.m. - Media interviews at Garden River Fire Hall
11:30 a.m. - Deaprture from Garden River Fire Hall
Noon - Pow wow grand entry
1:30 p.m. - Closing ceremonies
For more information, contact Nora Pine, Garden River First Nation.
Phone: 705-946-6300 ext. 286. Email: r@gardenriver.org
*************************