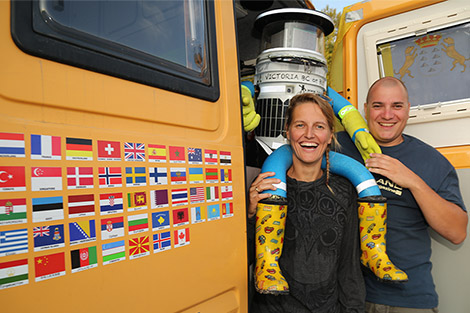 Some trek across Canada to raise money for a cause, others for the personal challenge.
For one robot, hitch-hiking across Canada is its primary function.

hitchBOT is a robot which was built as a joint project by professors from Ryerson and McMaster universities as a unique social experiment.

The purpose? To determine if robots can rely on humans to help them on a cross-Canada adventure.
Co-creator Dr. Frauke Zeller, assistant professor at Ryerson University said in a recent press release, "Usually, we are concerned with whether we can trust robots. This project asks: can robots trust human beings?"
The robot itself (it has no assigned gender, though speaks with a female-sounding computerized voice) is made from a large beer pail and is equipped with a GPS system and 3G networking, able to Tweet its location and even respond to basic questions.

Its legs are reinforced pool noodles and her right hand is glued into the classic hitch-hiker "thumbs up" position.

hitchBOT's journey began July 27, 2014 in Halifax, Nova Scotia and its creators hope she will end up in Victoria, British Columbia sometime this summer.

SooToday.com picked hitchBOT up at the Trading Post on Great Northern Road from Henry Lewis, who had driven the robot from her previous destination on Manitoulin Island.

Lewis was driving back to his current home in Bay Mills, Michigan and dropped it off on the outskirts of the Sault.

hitchBOT took part in a pow-wow on Manitoulin and was even given an Anishinabe name, Biiaabeqwe which he said translates to "iron woman."

We decided that it couldn't let hitchBOT bypass the city without sight-seeing and took her on a photo shoot along the scenic waterfront of Sault Ste. Marie.

After that we drove it to the next destination at the halfway point of the Trans-Canada Highway at Chippewa Falls.

On the way we stopped to photograph hitchBot at Harmony Beach, where it was allowed to put its feet in Lake Superior (it is waterproof, after all).

At Harmony Beach we met its new caretakers, a Belgian couple named Kim Van Aerde and Seb Leeson, who are driving their van across Canada and volunteered to take hitchBOT with them.

They said they won't keep the robot for the entire journey, but will drop her off somewhere along the way.
Like hitchBOT, the couple started their journey at Halifax and will be finishing in Victoria.

"That was the first time we saw hitchBOT but we knew about him, her or it because we read about it," said Leeson.

They didn't think they would see the robot again, but thought it would be interesting to have her travel across Canada with them.

The couple often picks up hitch-hikers on their travels through many countries, this is their first trip to Canada.

"We really want to take it on a short journey because it is special," Leeson said.
(PHOTO: Kim Van Aerde and Seb Leeson pose with hitchBOT on August 5, 2014. The pair will drive west across Canada with the hitch-hiking robot. SooToday.com/Kenneth Armstrong)
Correction: SooToday.com initially wrote that hitchBOT was assigned a female gender. Although the voice sounds female we have been informed that the robot is genderless. SooToday.com regrets this error.