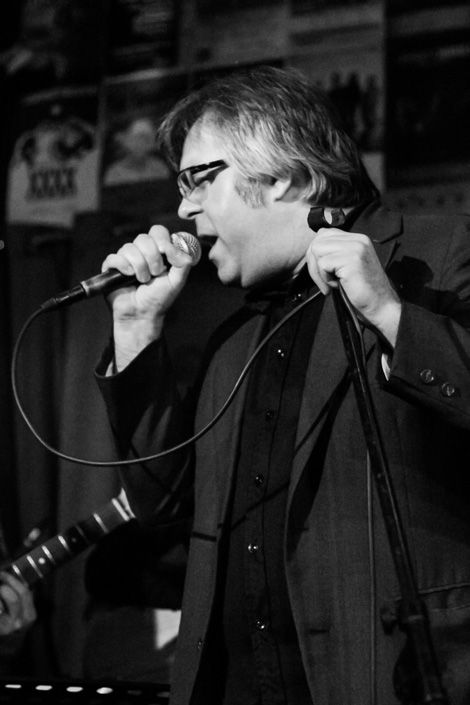 Each year at the end of December, the fine folks at Loplops Gallery-Lounge host a celebration of original local music cleverly dubbed The 12 Musicians of Christmas.

The event is a fitting end to the year before the venue closes for a few weeks in January in order to facilitate repairs and upgrades.

There's likely a bit relaxation involved, too.

This past 12 Musicians of Christmas - the 9th annual - was a sold out affair that featured Frank Deresti, Renee Landry, Jay Case, Chris Johns, Al Wood, Bryan Gilmartin, John Yun, Kalle Mattson, Josh Norling, and Lindsay Pugh (pictured).

For the first time ever, the night also included two non-local musicians with Sault Ste. Marie connections - JF Beauchamp (member of Kalle Mattson) and Michelle April (member of Redwood Central with Al Wood).

"I love the 12 Musicians of Christmas because it's a giant celebration of the talent in our community," Loplops' owner Steve Alexander told SooToday.com. "It's an incredible amount of work on the musicians' and production side. Every year I'm amazed with what I see."

Indeed, an incredible amount of work goes into making the show as seamless as possible, and it's not without its challenges.

Each musician is tasked with learning up to 20 news songs in a very short period of time for the showcase.

"Learning and remembering the songs the day before is a challenge," said Mattson. "You also hope the others remember your songs. That can be scary."

"The spontaneity of the event is awesome. I think the audience likes seeing us struggle to figure it out on the spot," he continued. "It's also great to hear 24 original songs from 12 different musicians. It's a one-of-a-kind event and doesn't happen anywhere else."

"It's just a great experience. It's like musical boot camp," said Lindsay Pugh, who showcased a song he wrote using a poem originally penned by his father.

"Everyone strives to not screw up so everyone looks as best as they can," Jay Case told us. "The camaraderie and coming together of our peers and friends is great. If you'er not friends before the show, you are after. That's what makes this event so special."

"I make my living as a sound man and being in Northern Ontario, I don't always get to do everything I want to do," George Ravlich, owner of Crank Sound Distribution, explained to us. "But there are moments in time, and The 12 Musicians of Christmas event is one of those moments, when I truly love what I do. It's an honour to work this event with these talented musicians."
To see a gallery of images from The 12 Musicians of Christmas, please click here.

Following what has traditionally been a stellar showcase of original music (this year was no exception), we learned of a few interesting upcoming events.

Lindsay Pugh told us that his good friend, Indiana-based blues rock guitar legend Southside Denny will be in the Sault for not only an intimate performance, but a guitar workshop as well.

Pugh will join Denny on Sunday, January 12 for a performance at Cafe Natura (75 Elgin Street) at 7 p.m.

This is an all-ages event and admission is $10.

Following this, Thomas Walls School of Music (505 Albert Street East) will host Denny for a guitar workshop at 7 p.m. on Monday, January 13.

The guitar workshop will start with ideas from Denny's guitar instructional book Essential Guitar Tools and will cover a wide variety of subjects such as general blues and rock improvising (what makes it all work), alternate tuning and slide playing, alternate tunings in regard to finger style playing, and some licks and tricks.

The cost for this workshop is $10.

To reserve a spot in advance or for more information, contact Thomas Walls School of Music at (705) 946-1981.

We also had a chat with Kalle Mattson who told us of his upcoming album release for Someday the Moon Will Be Gold, scheduled to come out on February 11, and his first-ever European tour.

Mattson will depart on Monday, January 13 to play shows in the Netherlands, Belgium, Germany, Austria, Italy and Switzerland.

Upon his return to Canada, Mattson and bandmates will host a CD release party at Loplops on Saturday, February 22 at 10 p.m.

Loplops is scheduled to re-open on Friday, January 17 with a performance from the Hustle Brothers, which features Jay Case and Frank Deresti.

The following day, the Toronto-based all-girl indie rock trio Magneta Lane will make its long-awaited Sault return for a show starting at 10 p.m.

Last year's Witchrock EP featured the lead single Burn which debuted at No.1 on the Canadian Indie Music Countdown on CBC Radio 3.

For more information about Magneta Lane, please click here.

For details about this and other upcoming performances at Loplops, please click here.