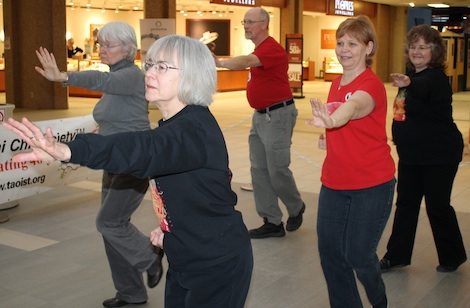 If you have made a New Year's resolution to get in shape, but aren't eager to take up jogging or working out in a gym, then Taoist Tai Chi may be for you.

Sault Ste. Marie Taoist Tai Chi Location Leader Barbara Patriquin and her fellow Tai Chi devotees were on hand for a public Tai Chi display and information session at Station Mall Saturday.

The local Tai Chi organization meets at 120 Cunningham Road, just south of the Pine and McNabb intersection and across the street from Francis H. Clergue Public School.

Patriquin told SooToday.com, "We celebrated our 25th anniversary here in the Sault in 2011," estimating current membership stands at around 120 people.

Patriquin explains "Tai Chi is the soft, internal martial art, started in China in the 13th century, but the version of Tai Chi we use was started in 1970 by Master Moy Lin-shin after immigrating to Canada."

"He came to Toronto and started with a few students, and it grew from there. Tai Chi is practiced in 26 countries, but our international centre, a big training centre, is near Orangeville, Ontario, although you would think it would be located somewhere in East Asia," Patriquin noted.

The local Tai Chi group is welcoming new members to come and try it for themselves, and is offering a new Fast Track (or accelerated) beginners program, being offered for the first time locally, January 25 through January 27.

With the Fast Track program, you are introduced to the 108-movement Tai Chi workout over three days instead of the usual three months.

The program begins Friday January 25 from 7 p.m. to 9 p.m., and continues Saturday, January 26 and Sunday, January 27, from 10 a.m. to 3 p.m. both days.

Learning Tai Chi normally takes place at the local centre once a week for 3 to 4 months to learn the 108-move set, in either daytime or evening classes.

Weekly beginner classes will start Tuesday January 15, from 7 p.m. to 9 p.m.

A second, daytime weekly beginner class starts Wednesday, January 16, from 9:30 a.m. to 11:30 a.m.

Registration begins Friday January 12, 10 a.m. to 1 p.m.

Cost for the Fast Track program is the same as the regular program: $120 for adults, and $80 for students and seniors.
Fast Trackers may then continue with the regularly scheduled Tai Chi classes and practices.

"Not only is it a physical art, but there's a spiritual side as well," Patriquin said.

"The physical benefits," she says, are "terrific. You're stretching, you're increasing your range of motion, it's good for your joints, your tendons, and your internal organs are all getting massaged through the process of the 108-move set."

"It's total exercise, it helps your whole body. It will not only help a bad knee, but your whole body as well. For people with osteoporosis, they've actually seen their bone density increase. It's good for lower back pain. It's good if you just want to get moving again because it's low impact so nothing gets sprained, it is not competitive and it is very calming," says Patriquin, who is a retired nurse.

She adds: "My husband used to see a chiropractor regularly, but doesn't go as often since taking up Tai Chi. The chiropractor is happy with that and told him keep on doing what you're doing" although Patriquin adds Tai Chi is not a total substitute for a family doctor.

"Tai Chi does not cure more serious health problems, but it helps people live a more productive life. It also looks nice, it looks beautiful when everyone does it together."

Patriquin notes, "A younger person, 25 years old, might not need Tai Chi for physical problems, but will enjoy it for the calming aspect, it reduces stress."

What of the spiritual aspect?

"If people are interested in exploring that aspect of it, they can, but it is not mandatory. It's different from most religions because we chant and do Taoist meditation. It's a smorgasbord though; you may take only what you want from it. Or, if someone has a very strict religious perspective, they don't have to take part."

"The chants are words, spelled out phonetically. There are Taoist chants, Confucianist chants and Buddhist chants. We don't emphasize it as much…most people come for the physical benefits."

As for Saturday's gathering at Station Mall, Patriquin said interested observers and passersby asked lots of questions and took home information packages.

She notes, "A lot of people join after seeing Tai Chi demonstrations in shopping malls."

For more information, you may call Barbara Patriquin at 705-882-2405 or you may call the Tai Chi centre's local office at 705-256-8705 or use e-mail.