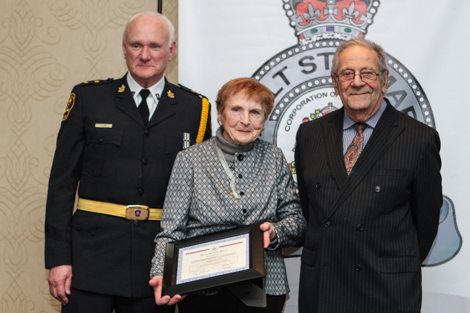 Since 1965, Margaret Bennett (pictured above with Inspector Pluss and Justice Greco) dedicated her free time to ensure the safety of children crossing at Wellington and Hugill Streets.

At the January 20, 2014 meeting of City Council, Bennett was presented with a clock following her retirement from crossing guard duty this past fall, and last evening she received an award of commendation during the annual Sault Ste. Marie Police Service and Police Services Board Police Community Programs Night at the Delta Hotel.

Through her 48-year stint as a crossing guard, she boasted nearly perfect attendance and enjoyed a 100 percent accident-free record, although she told SooToday.com she had a few "close calls" from distracted drivers.

During last night's ceremony, Staff Sergeant Jane Martynuck recalled how tardy students would often knock on Bennett's door to cross them safely as she conveniently resides in the neighbourhood.

"The job for me didn't have any challenges. It was just part of my routine. I did it every day just like I did everything else," Bennett told us. "You have to like the weather, but I liked it because it was close to home. It keeps you healthy and gives you a lot fresh air."

As for her new-found free time, Bennett says she's looking forward to Spring so she can get busy working in her gardens.

Bennett was just one of many local residents and agencies that were recognized during this year's Community Programs Night.

A news release issued by the Sault Ste. Marie Police Service follows.

*****************************
Sault Ste. Marie Police Service and Police Services Board Police Community Programs Night

On the evening of the 25th of February 2014, the Sault Ste. Marie Police Service and the Sault Ste. Marie Police Services Board hosted the 28th Annual Police Community Programs Night.

Last evening over 100 persons and agencies were recognized for their contribution and assistance to our community.

The Police Service works closely with many businesses, agencies and service clubs to ensure our community is a safe one.

In addition, the Police Service and the Police Services Board also presented a number of awards.

In conjunction with the Kinsmen, who generously support the Elmer the Safety Elephant Program, as well as the Presents for Paeds campaign, seven schools were recognized for practicing the Elmer Safety Tips, such as look both ways before crossing the street.

The schools recognized are:
Etienne Brule - five years accident free
Ben R. McMullen - 10 years accident free
Isabel Fletcher - 10 years accident free
Northern Heights - 10 years accident free
St. Bernadette's - 10 years accident free
F. H. Clergue - 15 years accident free
St. Ann - 25 years accident free
The Service and Police Services Board also presented plaques to the following persons for their contributions to the Service:
Jim McAuley and Chris Gillespie for their generous donation of a ballistic vest for Police Service Dog Justice
Monty Pinder for several years of donating the use of his facilities for police officers to use for mandatory training
Crime Stoppers and Sault College for teaming up and forming the Crime Stoppers Community Patrol. This program involves the Justice Studies students from Sault College patrolling the downtown area with the goal of reducing crime and giving business owners a sense of security in the downtown area.
The following persons were presented with an award of commendation for their role in assisting with solving crime in our community:
Ammar Bin Dhaban reported a break and enter to an east end business. He called 911 and stayed on the line with the communications operator providing valuable information. When one of the fleeing suspects ran in his direction, he assisted with apprehending the suspect and turned him over to police.
Nathalie Belair, Kaitlin Antler, Susan Ralph and Carrie Whalen were all involved in reporting suspicious activity. Their willingness to report a suspicious vehicle and persons resulted in officers arresting two males who had robbed two convenience stores.
Margaret Bennett was recognized for her dedication to crossing children safely in our community as she has devoted 48 years of her life doing just that. Margaret retired last fall and is now enjoying a well deserved retirement.
Thank you again to our community and community partners, and we look forward to the successes 2014 will bring.

*****************************