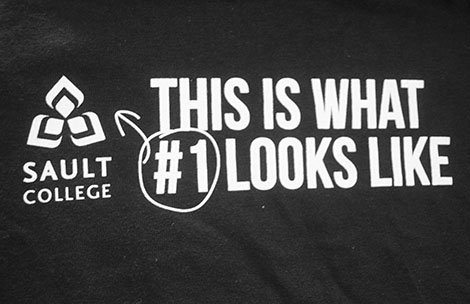 Sault College staff and students gathered in the front lobby of Essar Hall this morning, all wearing shirts displaying a brand new saying: "This is what #1 looks like."
The slogan celebrates Sault College's recent top ranking among colleges across Ontario, as ranked by students.
"I can now say, mission accomplished," said Ron Common, president of Sault College. "Students come first, it's our mantra, so it's only appropriate that we come first with our students."
The campus space has undergone many changes recently with the addition in just this last academic year of the new Health and Wellness Centre, and the Common Link - both spaces devoted to serving the needs of the students.
These new additions provide a social hub connecting the college's recent developments with the older establishment, and a place that has seen many student-run events like Cheer for WUSC, and the annual traditional powwow.
The college says staff demonstrate their commitment to understanding barriers affecting student education, and putting student needs first.
"Obviously the students are everything," said Jordan Bourneman, president of Sault College Student Union.
"To see that the students have ranked us No.1 in front of all of other colleges in Ontario really speaks to the fact that the students have recognized that we're here for them and we are very much student focused."
Sault College says it is preparing to maintain its momentum and launch forward into the 2014/15 academic school year with fresh ideas, renewed vigor, and the same commitment to community excellence.
Additional SooToday.com coverage of this story: