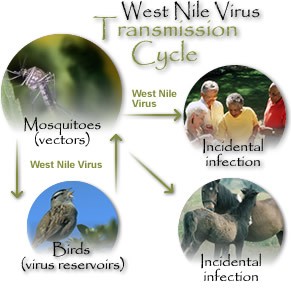 NEWS RELEASE
ALGOMA PUBLIC HEALTH
*************************
The risk of West Nile is increasing in Algoma
Laboratory analysis of two dead birds found on July 17, 2013 in Sault Ste. Marie confirmed that the birds died from the West Nile Virus (WNV).

"We want to remind people to be vigilant about their personal protection against the bite of a mosquito as well as reducing mosquito breeding grounds on their property" says Sarah Bunjevac, Public Health Inspector at Algoma Public Health (APH).

By the end of 2008, the Ministry of Health confirmed the presence of West Nile Virus in birds in all of Ontario. Since then, the Ministry has discontinued individual dead bird testing. Algoma Public Health does not test birds unless a cluster of dead birds is spotted.

WNV is an illness that can be spread to humans by the bite of an infected mosquito. Mosquitoes become infected when they bite an infected bird.

Algoma Public Health is constantly monitoring adult mosquito populations for West Nile Virus. APH, in partnership with the Sault Ste. Marie PUC, monitor and larvicide the underground buried vaults in Sault Ste. Marie.

How to protect yourself:
Limit your time outdoors when mosquitoes are most active (from dusk to dawn).
If you must be outside when mosquitoes are active, wear protective clothing such as light colored long pants, long sleeves, socks and shoes.
Use an insect repellent on exposed skin when outside in places and at times when mosquitoes are most active.
Choose an insect repellent that contains DEET or other approved ingredients such as P-menthane 3.8-diol or Soybean oil, a 2% blocker repellent.
Always read and follow the directions on the insect repellent container, especially when using on young children.
How to reduce the mosquitoes on your property.
Drain water from:
Bird baths
Old tires
Unused containers like barrels
Flower pot saucers
Swimming pool covers
Wading pools
Clogged gutters and eaves troughs
Clogged drainage ditches
Small containers like cans or bottle tops
Unused children's toys or vehicles
For more information on West Nile virus, visit our website or join the conversation on our Facebook or Twitteraccount.
*************************