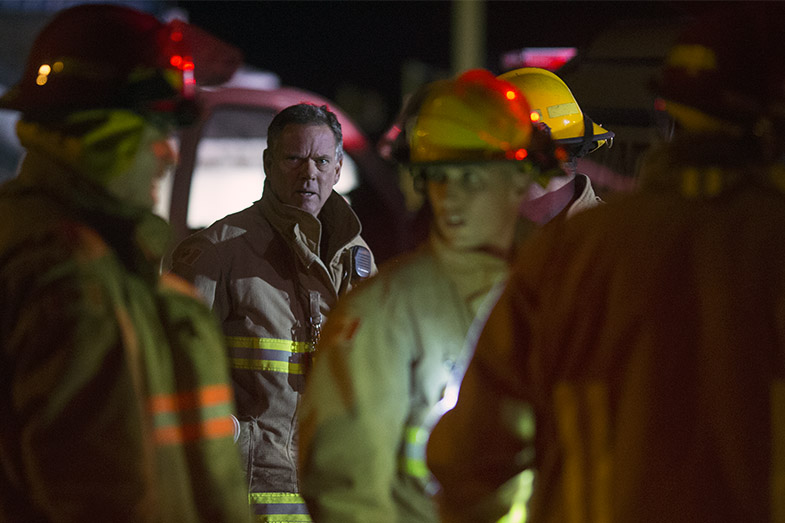 A fire tonight in the West End tested the city's slimmer complement of on-duty firefighters — as result of a recent reorganization of fire services.
Platoon Chief Joe May said all 13 available firefighters attended a fully-involved blaze at Triple M Metals on Yates Avenue this evening.
May said that company shreds automobiles as part of their metal scrapping business.
"One of the automobiles — when they were putting it through they assume there was still a gas tank — it exploded," said May.
He said the fire then spread to two other areas through the company's conveyor belt system.
The fire was successfully brought under control by the firefighters before 8 p.m., with one crew staying behind to look for hot spots.
With all on-duty firefighters attending the one scene, a backup crew of 4 were called in on overtime to man a backup pumper truck.
"Which is fortunate because we had an alarm call at the same time at Station Mall. They had a busted sprinkler head down there," said May.
Until recently the Sault Ste. Marie Fire Services were operating with 17 on duty at any time.
The complement of on-duty firefighters was reduced to 14 and crews of 3 firefighters per truck were introduced as part of Fire Chief Mike Figliola's restructuring of the service.
One of those 14 firefighters operates as a communications officer.
At last Monday's city council meeting, Figliola stated Calgary was also moving toward a 3-firefighters per truck model.
The same day, Calgary's city council — supported by Calgary's fire chief — struck down the idea of reducing the amount of firefighters per truck from 4 to 3.
Previous SooToday coverage of this story:
(PHOTO: Firefighters at scene of a full-involved fire tonight on Yates Avenue in the city's west end. Kenneth Armstrong/SooToday)