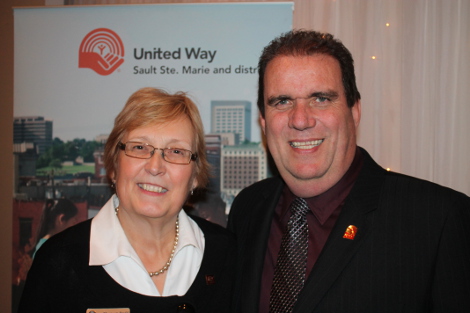 Sault Ste. Marie and District United Way officials chased the "January blues" away by accepting generous donations from several community businesses at a 2013 United Way Campaign event held at The Grand Gardens on Dennis Street Tuesday.
The local 2013 campaign, under the slogan 'Change starts here,' kicked off in September and officially wraps up March 31, 2014.
Campaign Chair David Gearing, pictured with Sault Ste. Marie and District United Way's Resource Development Manager Maureen Dodd, announced that with the inclusion of Tuesday's cheque presentations, $1,060,000 has been raised for the 2013 campaign.
The 2013 campaign goal is $1,350,000.
The 2012 campaign raised $1,293,000.
"We're looking for $290,000," Gearing told Tuesday's audience.
Speaking to SooToday.com, Gearing said: "I'm encouraged with where we are."
"There are a lot of numbers that aren't in yet, that will be."
"I'm amazed at the time and effort people have put into the campaign, and a lot of people aren't finished their own office campaigns yet."
Though support from individuals is welcomed (not only for the 2013 Campaign, but at any time throughout the year), Gearing said: "I always like to see donations through employers because a lot of employers are very generous and match dollar for dollar what their employees give."
Gearing also pointed out: "If 50 percent of our working population in Sault Ste. Marie gave three dollars a month, which is 36 dollars a year, there's our target met."
Gearing added: "We thank those who have already given, and I think if people can't give money they should give time…we owe it to the community."
Funds raised by the local United Way stay local, and go to services provided by community agencies such as Women in Crisis, Sault Search and Rescue, CNIB, Pauline's Place Youth Shelter and a host of others.
Gearing said he is enjoying his experience as Campaign Chair.
"Nothing is more rewarding than doing something of this nature."
Cheques were received by the Sault Ste. Marie and District United Way at Tuesday's event from Future Shop, the two local Scotiabank branches, Algoma Power Inc., Freedom 55 Financial, Sault Ste. Marie PUC employees, Ministry of Transportation employees, Ministry of Natural Resources employees, Great Lakes Forestry Centre and Great Lakes Power Transmission.