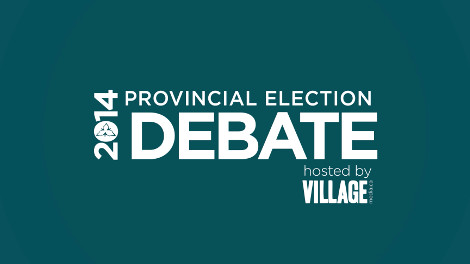 SooToday.com and sister site LOCAL2.ca are inviting readers and viewers to join us Tuesday, June 3 at 2 p.m. as anchor Jasmyn Rowley hosts a political debate as a highlight of our provincial election coverage.
The event will be livestreamed on LOCAL2, and will include the candidates from the three main political parties, each of them vying for the role of MPP for Sault Ste. Marie.
We'll be asking the candidates to weigh in on the most important issues at stake this campaign, and we want you to help, so go to our poll on SooToday.com or connect with us on Facebook or Twitter to let us know what you want us to ask.
Here's who's going to be there:
David Orazietti, incumbent Liberal MPP, is gunning for his fourth consecutive term as the Sault's representative at Queen's Park.
First elected as MPP in 2003, and re-elected in 2007 and 2011, Orazietti served as parliamentary assistant to several cabinet ministers before being named Minister of Natural Resources in 2013.
Orazietti worked as a secondary school teacher for 10 years with the Algoma District School Board.
He served two terms as a Sault Ste. Marie city councillor (1997-2003) before entering provincial politics.
Orazietti tells us he felt motivated to enter municipal politics to look for opportunities for young people in the Sault, later entering provincial politics to push for improved resources for Sault Ste. Marie, such as more physicians, a new hospital and new schools.
Orazietti says his priority for the Sault, if re-elected, will be to maintain economic well-being for major players such as Essar Steel Algoma, Tenaris and Flakeboard, while encouraging economic development in other sectors.
NDP candidate Celia Ross taught at Algoma University in the modern languages department for 15 years before serving as the postsecondary institution's president from 1998 to 2010.
Originally from Guelph, Ross was educated at Queen's University, receiving her doctorate in French literature.
It was during her time as Algoma's president that the school became an independent university.
Currently teaching French literature at Algoma, this is Ross's second attempt at winning the Sault's seat at Queen's Park, having run in the 2011 provincial election.
Ross says she was motivated to get into provincial politics through an interest in social justice issues, as well as economic and social development for Sault Ste. Marie.
Progressive Conservative candidate Rod Fremlin was born and raised in Laird Township before he moved to Sault Ste. Marie, where he worked as a firefighter for 28 years.
Fremlin, who played junior hockey in his youth and spent time working in construction in the Middle East and the Canadian Arctic, rose to the rank of captain with the Sault Ste. Marie Fire Service.
He is retired from firefighting and now runs his own business building custom homes.
Fremlin is serving his second term as a member of the Matthews Memorial Hospital board of directors.
This provincial election campaign marks Fremlin's first attempt at running for office, though he said he has been contemplating a run for some time.
Fremlin says he is motivated to get into politics to improve quality of life for Sault residents in all aspects, from job creation, lower hydro bills and increased staffing levels at Sault Area Hospital and long-term care facilities.
Be sure to join us for this live debate Tuesday, June 3 at 2 p.m.
In the meantime, you can check out Jasmyn's in-studio interviews with the candidates:
Fremlin says youth and elderly top concern
Celia Ross talks plans for Sault and province
Orazietti says jobs priority for Sault
Keep checking back for interviews with Green and Libertarian candidates.