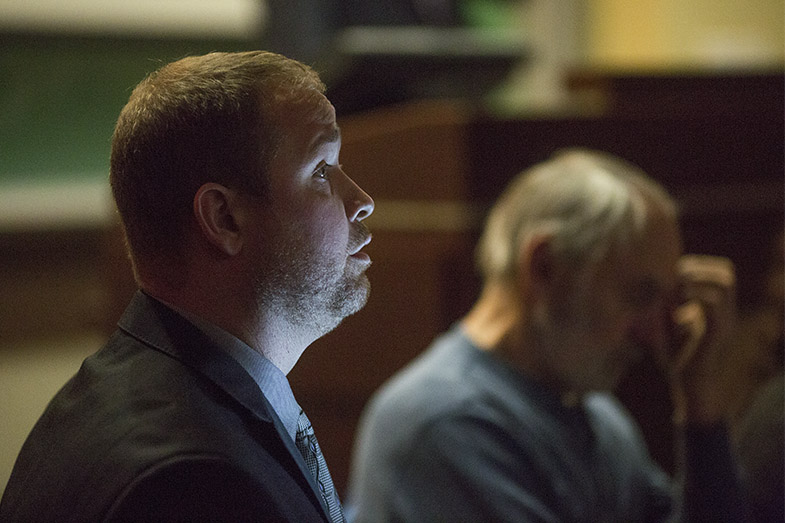 The new GM of the downhill ski resort in Searchmont says everything is in place for a successful season — except snow.
"We need mother nature on our side, but the hill is in the best shape it has been in over 15 years," said Colin Wilson, general manager for Searchmont Ski Association, Inc (SSAI).
Judging by comments made by some association members at last night's annual general meeting — that's just one of SSAI's worries.
A few are unhappy with changes made since last season, most notably the decision to not rehire seasonal staff, asking them to start the application process anew.
Adam Hayward had worked at the resort for 10 years, most recently as marketing manager.
He was informed earlier this fall he would no longer be holding that position and was offered either a cleaner job or to apply for another position within the resort.
He declined both offers.
"All of a sudden a general manager comes in who has never seen me work and he thinks someone else is more qualified for my job," said Hayward.
But Wilson said the new process for hiring seasonal staff is more fair and transparent than in previous years.
"We need to get the best and the brightest. Sometimes that is a difficult position for individuals working in an organization that doesn't see a lot of turnover," said Wilson.
At issue for Hayward was the hiring of three Ontario Works recipients to positions previously held by full-time staff.
"We just need to make sure the people that have kept the resort going and built it up get the respect and recognition they deserve," said Hayward.
Wilson said the Ontario Works recipients — who participated in the Superior Skills program — were invited to take part in the resort's job fair like everyone else with no guarantees for employment.
"We did provide eight weeks of training. That gave them the opportunity to learn some of these skills and to become qualified for some of these positions," said Wilson.
But Hayward wonders how eight weeks of Superior Skills training trump his lifetime of experience on the hill — which he has been using since he was a child.
Hayward also questioned Justus Veldman — who is chair of the non-profit SSAI — about his connection to the Superior Skills program in his position at the time as CEO of Riversedge Developments and developer of Destination North.
"I am happy to disclose and send to members any and all invoices — if there are any — for profit," Veldman told the meeting.
He added, "If I am found to be in conflict, I am happy to take the necessary steps."
Hayward asked if it was Veldman or Wilson who made the decision to bring in Destination North staff.
Veldman asked that request and the request for financials be formally put in writing for the board to answer at a later date.
Hiring practices aside, members had concerns over what they referred to as a lack of communication between the board and its members, which are comprised of season pass holders.
The board confirmed the resort would be open to skiing Thursday to Sunday only, cancelling Wednesday skiing as part of its austerity measures.
This 20-percent reduction in ski days did not sit well with some members, many of whom already purchased their 2015-2016 pass under the expectation they would continue to have five days a week of skiing, not four.
The board noted some Wednesdays would be open to skiing over the Christmas holidays and March break.
Many wondered why the change was not communicated to membership, who had to hear about it 'on the street.'
Concerns were also raised about the new staffing levels and whether some new hires are experienced enough, especially when it comes to safety.
Wilson said the association simply cannot operate with the staffing levels it has in the past.
"This board has taken a tremendous task on and it requires some difficult decisions. Hopefully it turns around and the numbers come and we can continue," said Wilson.
Four months of planning went into the board-approved budget for the 2015-2016 season.
"The revitalization of a ski hill is a big undertaking and the ski industry as a whole is seeing some crazy pressure. If you look in the news you're going to see a lot of ski hills in the north are dropping. Sault Ste. Marie used to have four ski hills, that were flourishing — now we have one — so it is critical the community realize how important this asset is because once they are gone rarely do the come back," said Wilson.
This will be the first full season SSAI takes on an operating-only role — after years of running it as owner-operator — as result of the Sault Ste. Marie Economic Development Corporation (EDC) buying out the mortgage for $750,000 and spending an additional $750,000 on unpaid bills.
Wilson said he hopes the association's new operator-only role will allow it to turn a profit — or at least break even — after consistently running $300,000 deficits year-over-year.
"To get to zero or above -- we are looking at maybe a $600 profit — requires tremendous change," said Wilson.
He said the EDC does not want to be in the business of operating a ski resort.
"That partnership allows for us to stay open. If the EDC hadn't stepped in there would be no season and if SSAI hadn't stepped in there would be no one there to run it," said Wilson.
The EDC spent almost $400,000 in improvements over the off-season and much of it will be paid back through a grant by the Northern Ontario Heritage Foundation Corporation.
The grant pre-existed the EDC's ownership of the hill, but SSAI didn't have the funds to access them.
Through the grant funding, hill remediation work was completed, equipment was repaired or purchased and some salaries can be subsidized.
"The brushing of the mountain will allow for an earlier opening. The new groomers, the new hydrants, the new piping for the water systems — all of these efficiencies we hope make a better product but without mother nature's help we're waiting," said Wilson.
"We need snow."
Wilson hopes the resort can return to profitability to allow the association to keep the momentum going.
"In past years those unpaid bills — it was crippling. Getting ourselves to a balanced budget and fiscal position where we can move forward and make these investments and do the great things people want will take time and planning," said Wilson.
With EDC funds tapped out, the association is turning to a crowd-funding campaign to raise $80,000 to resurrect the quad lift, which has been dormant for years.
Wilson said they will be able to gauge the community's interest by their response to the crowd-funding.
"If the community doesn't want it, we'll know. We are not in the position to make those improvements," said Wilson.
Hayward, who recently moved to Searchmont — and now brings his own children to the hill — hopes the resort will keep operating with or without him being employed there.
"At the end of the day, our goal is not to steer people away from going to Searchmont. We absolutely want people to utilize Searchmont, to go and have a good time," said Hayward.
Wilson said his door is open should Hayward reconsider the job offer.
"Sometimes the emotion can cloud judgement. I think he needs time to settle. If he's serious and wants to be part of the team of course we'd have him back."
(PHOTO: Searchmont GM Colin Wilson addresses membership at the Searchmont Ski Association Inc.'s annual general meeting. Kenneth Armstrong/SooToday)