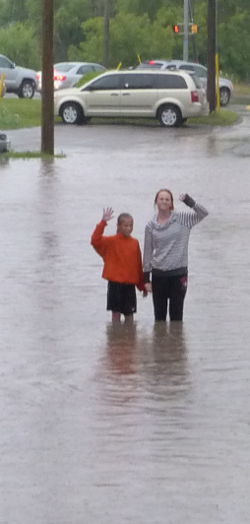 ENVIRONMENT CANADA
WEATHER SUMMARY
*************************
PORTIONS OF NORTHERN AND NORTHEASTERN ONTARIO HAVE RECEIVED SIGNIFICANT AMOUNTS OF RAIN AND THUNDERSTORMS OVER THE PAST FEW DAYS.

THIS WAS THE RESULT OF A VERY SLOW MOVING LOW PRESSURE SYSTEM.
MANY LOCATIONS SAW IN EXCESS OF 50 MILLIMETRES OF RAIN SINCE FRIDAY MORNING.

SHOWERS AND THUNDERSTORMS CONTINUE TO AFFECT PORTIONS OF NORTHEASTERN ONTARIO THIS AFTERNOON, BUT ACTIVITY IS EXPECTED TO TAPER OFF ON MONDAY.

THE FOLLOWING TABLE SUMMARIZES RAINFALL AMOUNTS RECEIVED BY ENVIRONMENT CANADA.
THE VALUES ARE TOTALS FROM EARLY FRIDAY MORNING UNTIL 2 PM EDT TODAY.

LOCATION RAINFALL AMOUNT (MM)

ARMSTRONG 64
GERALDTON 61
NAGAGAMI 92
WAWA 36
PUKASKWA 46
KAPUSKASING 61
TIMMINS 49
CHAPLEAU 51
SAULT STE. MARIE 62

THIS WEATHER SUMMARY CONTAINS PRELIMINARY INFORMATION AND MAY NOT CONSTITUTE AN OFFICIAL OR FINAL REPORT.
*************************
Earlier SooToday.com coverage of this story