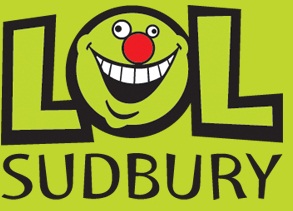 From April 17 to 20, 2013 Northern Ontario will play host to the funniest of the funny as LOL Sudbury kicks off another comedy festival.

Headlining this year's entertainment roster are the comedy duo of Cheech and Chong, and Canadian funny men Rick Mercer and Sugar Sammy.

Sugar Sammy will perform twice at LOL Sudbury as he presents an English show at the Radisson Hotel on Thursday, April 18, and his 'Frenglish' routine, You're Gonna Rire, on Friday, April 19 at Collège Boréal.

On stage at the Sudbury Arena, Cheech and Chong are scheduled to perform on Friday, April 19, with CBC television personality Rick Mercer to follow on Saturday, April 20.

Other comedians joining the 2013 line up include Eric Andrews, Scott Dell, Laurie Elliott, Darren Frost, and Patrick Haye.

The LOL Sudbury Comedy Festival is also pleased to announce the return of the Crown of Comedy competition, which is open to all comics from, or with roots in Northern Ontario.

Interested Northern Ontario jokesters are encouraged to apply by visiting the LOL Sudbury website and downloading the Crown of Comedy application form, rules and regulations.

Application deadline is Friday, March 22, 2013.

For full festival details and ticket information, please click here

About Rick Mercer

Rick Mercer is a Canadian comedian, television personality, and political satirist.

Mercer first came to national attention in 1990 when he premiered his one man show Show Me the Button, I'll Push It, or Charles Lynch Must Die at the Great Canadian Theatre Company in Ottawa.

A pointed, satirical political commentary on Canadian life after Meech Lake, Show Me the Button made Mercer a national star as he toured the show across Canada.

Mercer came to greater attention for his role in the satirical news show This Hour Has 22 Minutes, and his spinoff special Talking to Americans was one of the highest-rated comedy specials in the history of CBC!

About Sugar Sammy

Sugar Sammy is one of the hottest young comedians on the international circuit, Sugar Sammy is enjoying great success both at home and around the world.

In the last year and a half he has sold 120,000 tickets to his shows across the province of Quebec, including 60,000 to his groundbreaking bilingual show.

English and French critics and fans alike have lauded him for finding a way to make everyone laugh at each other, and themselves, at the same time, in the same room.

No stranger to the prestigious festival circuit, he's also performed at the Sydney, Cape Town, Johannesburg, Melbourne, Auckland, Halifax and Winnipeg festivals as well as Le Grand rire festival in Quebec City.

A tour-de-force, Sugar Sammy stirs up and samples the multi-cultural melting pot that exists in most urban centers today.

About Cheech and Chong

Cheech and Chong have become successful beyond their wildest dreams, as the iconic comedy duo defined an era with their hilariously irreverent, satirical, counter-culture, no-holds-barred comedy routines.

Cheech Marin and Tommy Chong's phenomenal success began on the stand-up comedy circuit which led to nine hit comedy albums and eight hit films, breaking box office records, shattering comedy album sales, garnering multiple Grammy nominations and mesmerizing fans for more than a decade.

With nine albums released from 1972 through 1985, Cheech and Chong were nominated for four Grammy Awards, winning the Grammy Award for Best Comedy Album with their third album, Los Cochinos, released in 1973.

Big Bambu, their second album, was the biggest selling comedy record of all time in 1972 and remained so for many years.

Their stunningly successful comedy streak transitioned to film in 1978 with their first movie, Up In Smoke, the highest grossing comedy of 1978, topping $100 million at the box office.

Cheech and Chong co-wrote and starred in a total of eight feature films together, all directed by Chong.