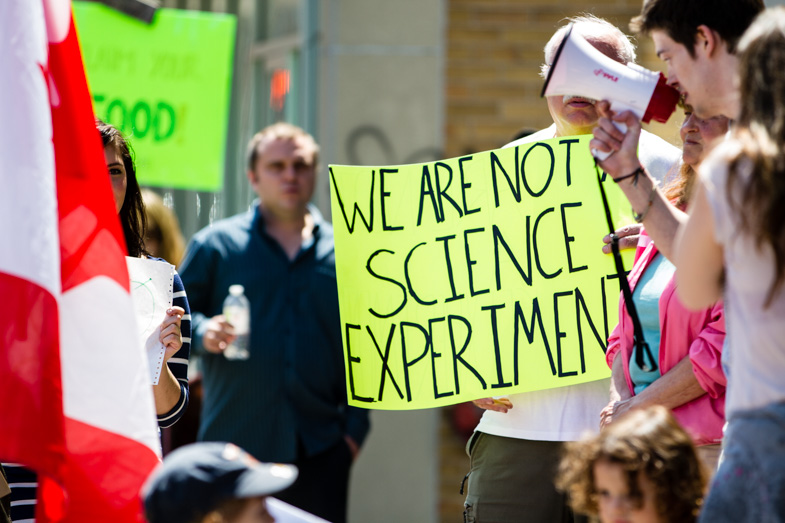 Rallies and protests happened across the globe Saturday during the world-wide March Against Monsanto as concerned citizens demanded the immediate boycott of genetically modified organisms (GMOs).

In Sault Ste. Marie, approximately 50 protesters met at Clergue Park and marched to Queen Street to rally in front of the office of MP Bryan Hayes.
Participants included Sault Green Party candidate Kara Flannigan and Libertarian candidate Austin Williams.

Monsanto is one of the world's leading producers of GMOs and herbicides (Roundup).

Numerous concerns surround Monsanto's products and business practices, including its impact on environmental and public health, food security, local agriculture sustainability, and biodiversity.

Research suggests that GMOs have contributed to the decline in the world's bee population and can result in serious health issues in humans, including infertility and birth defects.

Tami Monroe Canal, who founded March Against Monsanto in an effort to protect her children, stated in a recent news release: "Monsanto's predatory business and corporate agricultural practices threatens their generation's health, fertility and longevity. [March Against Monsanto] supports a sustainable food production system. We must act now to stop GMOs and harmful pesticides."

It was suggested at Saturday's March Against Monsanto that the first and easiest step to halting Monsanto's monopoly over the food supply is to buy from local producers, support organic suppliers, and boycott any product that uses GMOs.

In Canada, the food label 'organic' must always indicate the certifier that inspected and authorized the product to validate its organic designation.

When purchasing produce, the product look up (PLU) sticker plays and important role for consumers.

If a product PLU code is a four digit number beginning with 3 or 4, the product was grown conventionally (example: 4011).

If the PLU is a five digit number starting with 9, the produce was grown organically (example: 94011).

If the five-digit PLU begins with 8, the produce is genetically modified. (example: 84011).

In the Algoma district, consumers have a number of options to shop local, including a variety of farmers markets, including:

Algoma Farmers' Market
Roberta Bondar Pavilion
June to October
Saturday 8 a.m. to 12 p.m.
Wednesday 2 p.m. to 5 p.m.

Mill Market
35 Canal Drive
Starting in June
Wednesday 3 p.m. to 7 p.m.
Saturday 8 a.m. to 2 p.m.
Sunday 11 a.m. to 3 p.m.

Johnson Farmers' Market
Desbarats Community Centre
June to September
Saturday 9 a.m. to 2 p.m.

To learn more about Algoma-produced products, click here.

For more information about March Against Monsanto, click here.