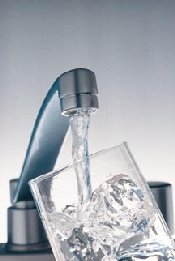 There will be a flood of rising water rates for Sault Ste. Marie PUC customers beginning this year.

PUC Inc. Vice President of Operations and Engineering Dominic Parella informed city council Monday water rates will rise by 10 percent beginning in 2013 and keep going up by that amount for the next five years.
Then they will continue rising by another 5 percent for five years annually beginning in 2018.

That's a total increase of 75 percent.

Parella said the increases are necessary in order to replace aging water mains city wide.

Parella told council the average lifespan of cast iron water mains is about 70 years, and many of those will need to be replaced in coming years.
Parella said "a significant amount" of water main work will need to be done, especially in the period from 2019 to 2030, when an estimated five kilometres of water mains will need to be replaced annually.

After 2030, it is estimated 15 kilometres of water mains will need to be replaced each year.

Parella said water main replacement "will become an issue in the future, but we're not quite there yet."

The price tag for replacement of one kilometre of water mains is about $1 million.

Between $5 million and $15 million will need to be put aside by the PUC annually for the next 30 years for water main replacement.

Basic water rate charges per month for 2013 are $19.87.

PUC customers will then be charged 45 cents per cubic metre of water for the first 15 cubic metres of water used monthly, followed by a charge of $1.30 per cubic metre for the next 250 cubic metres used per month.
Ninety-five cents per cubic metre will then be charged for further water consumption beyond that mark.

Still, Parella emphasized Sault Ste. Marie is one of the lower cost municipalities in Northern Ontario in terms of water bills.

On another note, Parella reported to council that the PUC is strictly adhering to Section 19 of the Safe Drinking Water Act, which came into effect January 1, 2013.

The Act can slap heavy fines (up to $4 million) and up to five years in prison for violations, and applies "to those with decision making authority over municipal drinking water systems."

He reported that 160,000 Sault water samples are collected and tested annually at a Thunder Bay testing facility to ensure Sault Ste. Marie drinking water is considered acceptable.