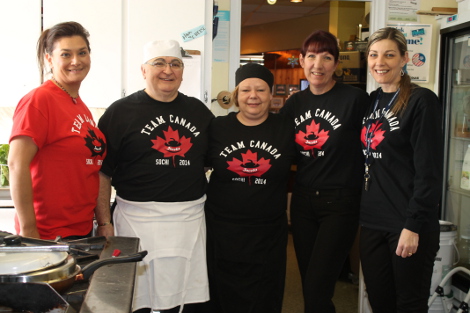 With Sault Ste. Marie's Team Jacobs now engaged in 2014 Winter Olympics men's curling action in Sochi (with one win and one loss after the first day of competition), Soo Curlers Association Manager Ian Fisher is urging the public to visit the Anita Boulevard Soo Curlers Association restaurant and lounge and enjoy watching the games on TV.
The friendly staff (including, from left to right, April Pine, Otto Volpe, Peggy Archambault, Kathleen Jondreau and Shaynee Brazeau) will be on hand to help enhance your Team Jacobs experience with good meals.
The invitation to drop in, have a meal and a beverage is always there of course, but Fisher, at this special time when our local boys are going for gold, told SooToday.com: "We're inviting anybody to come in to view the curling and other Olympic events."
"We've got a PVR set up here now (to record and playback all the Jacobs games for visitors, especially those games played late at night, overnight or early morning Eastern Time), so we'll be showing the games continuously throughout our business hours," Fisher said.
"Come on in and enjoy our facility."
Restaurant hours are 8 a.m. to 8 p.m., but, Fisher said: "The girls will be here and open the doors at 7 a.m. for anyone who wants to have a coffee."
Admission to the club is free, but people are encouraged to enjoy a meal.
Local cook Otto Volpe (former owner/operator of Vincenzo's before that well-known eatery closed last summer, when Otto sold the business) joined the Soo Curlers Association kitchen staff in January.
Fisher said: "The girls have gotten some different menu ideas based on some of the meals the Team Jacobs boys have ordered here."
"Brad Jacobs was known for enjoying a grilled cheese sandwich and a bowl of soup here…we'll have daily specials, all good food, good meals at great prices."
About 25 people enjoyed breakfast at the Soo Curlers Association restaurant Monday morning as they watched Team Jacobs defeat Germany 11-8.
The lounge, Fisher told us, can accommodate about 200 people.
Fisher said he hopes to plan "one of the biggest gold medal parties there ever was" at Soo Curlers.
Fisher told us he spoke to Brad Jacobs briefly before he left for Sochi, and said Jacobs definitely had his game face on.
"Before events, he has that look about him, and he had that look again, and you'll see it at the Olympics."
Fisher said: "I don't think he sees the people in the stands at all."
"He used to play here as a kid, and he's still like that same kid that he was…he only sees that sheet of ice."
"He's what I call focused."