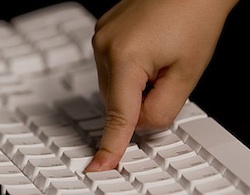 OPP NEWS RELEASE
*************************
More Internet scams ... please read!

ELLIOT LAKE, ON – There has been an ever-growing number of scam lottery e-mails advising consumer they have hit the jackpot.
You need to consider the following when you receive a solicitation of this kind:

• You cannot win without first buying a lottery ticket
• Legitimate lotteries do not notify winners by e-mail
• They do not randomly select e-mail addresses to award prizes to
• They do not use free e-mail accounts (Yahoo, Hotmail, etc.) to communicate with you
• They do not tell you to call a mobile phone number
• They do not tell you to keep your winnings a secret
• They will never ask a winner to pay any fees up front (like taxes or a security deposit) to receive a prize, lottery or sweepstake!
• Remember if you don't recognize who sent you the e-mail ... delete it!
Scammers pose as soldiers online, stealing women's hearts - and money
Innocent people have been falling for this more sophisticated "romance scam."
Nigerian-prince e-mail scams are rather easy to spot and avoid but receiving an e-mail from a soldier stationed in Iraq is close to your heart.

In this type of scam, thieves take on the identities of actual serviceman based in Iraq or Afghanistan and go to work scamming on social media-based dating sites.
The scammers start building relationships with women online, eventually asking them for money after wooing them and gaining their sympathy and trust.
The scammers go to great lengths to make their e-mail addresses untraceable and route accounts around the world.
The scammer will ask for money in some rather creative ways: money to buy a leave pass, cover medical expenses, for a flight home to see their victims in person.

Remember: When online dating, it's not real until you've met the person and don't ever send money!
Love doesn't cost a thing!

If it's too good to be true ... it's not.
*************************