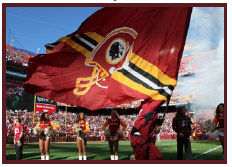 The saga of the National Football League's Washington Redskins, and more specifically the Redskins name, has taken a new turn.

In a decision today, the United States Patent Office has canceled six trademarks belonging to the team, citing the fact that the Redskins name is offensive to Native Americans.

The office's Trademark Trial and Appeal Board ruled ""that these registrations must be canceled because they were disparaging to Native Americans."

The board did say that it lacked the authority to prevent the team from continuing to use the trademarks.

The decision was the boards response to a suit brought forward by what they said were "five Native Americans."

For more on this story, refer to your preferred source for breaking NFL news.
Image courtesy the Washington Redskins