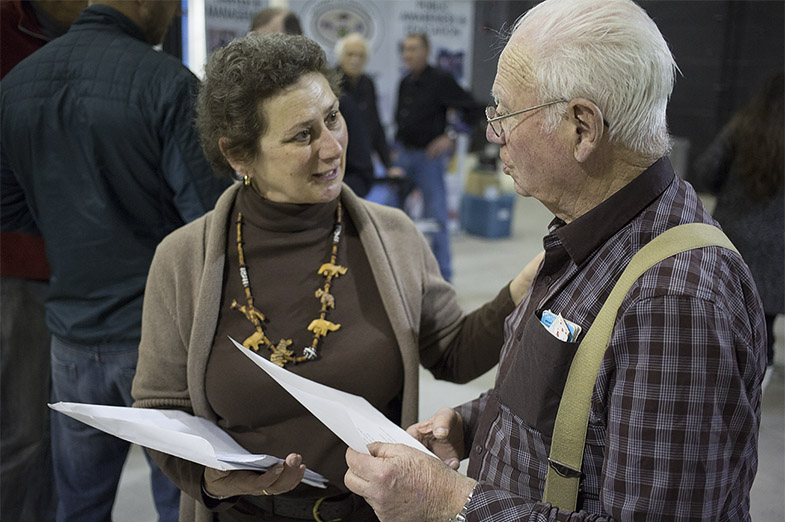 An event held Friday by the Coalition for Algoma Passenger Trains (CAPT) could end up serving as a wake for passenger rail in Algoma if the federal government doesn't agree to continue subsidizing the service.
Part rally and part expo, there was an air of uncertainty throughout the event as to what the future holds for passenger rail service in the area.

"It really comes down to some political decisions at this point and we hope they make the right decisions. Our passenger train has a lot of economic and employment impact in the area," said Al Errington, co-chair of CAPT and owner of Errington's Wilderness Island.

About 100 people attended the event at the Machine Shop at Mill Square, where a proposed plan would see a train station being included in the future.

Displays were set up to highlight various businesses which dot the line from Sault Ste. Marie to Hearst, including resorts, adventure tourism and fur trapping.
Errington said the challenge is getting people to stop thinking of the passenger service as it was, but imagining what it could be in the future.
"What we really have to look at is the passenger train as supporting opportunity. That opportunity drives ridership," he said.

Many were encouraged about news of a rail company seeking to hire 35 people for service between Sault Ste. Marie to Hearst, which broke just hours before the event.
An official announcement is yet to be made.
It is unclear if the operator has signed an agreement with CN or if the federal government will agree to continue to subsidize the passenger service.

Although Errington would not identify them because he is bound by non-disclosure agreements, he said the third-party operator will have to work quickly if they are to take over operation after March 31, 2015.

"I'm hoping we're getting into the beginning of something new. Much newer and better than we've had in decades," said Errington.

He also said the operator had hoped to be in attendance Friday night, but not in an official capacity.

"They wish they could be here, they were looking forward to being here," said Errington.

CAPT was originally created in 2007 to improve service on the Algoma Central Railway from a grass-roots level, but the sudden announcement of a shutdown of the ACR passenger service in January 2014 really brought them together.

Errington hopes one of his long-standing concerns about the line will be addressed by a new third-party operator.

"The reason it's not a strong service is because it doesn't connect with other trains. To me it's crazy that it crosses VIA Rail at two places and yet you cannot connect those two schedules," he said.
(PHOTO: CAPT board member Donna Cushley speaks with retired ACR worker Harold McQuarrie during an event March 7, 2015 at the Machine Shop at Mill Square. Kenneth Armstrong/SooToday)
Previous SooToday coverage:
Rail company says it's hiring for Sault to Hearst market