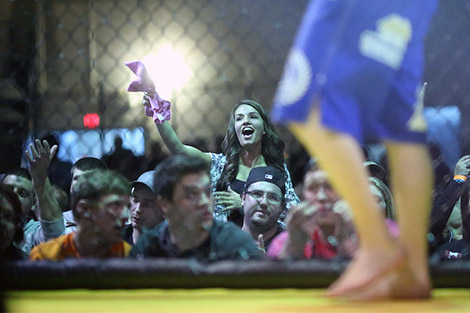 An estmated crowd of 1400 fight fans filled the Rankin Arena Saturday night for the Berzerker MMA "Warriors Collide" mixed-martial arts event.
The event was billed as being the first MMA fights to be held in Sault Ste. Marie, and included two female fights.
Local fighters included Jamie Lambert, Pat Kelly, Dave Firlotte, John Thibault and Dalton MacFarlane.
MacFarlane defeated Thibault in the final match, increasing his record to 8-0 in what he said was his final fight.
UFC women's fighter Miesha Tate was on-hand to take photos and sign autographs, as well as award some belts during the title fights.
Results:
Dalton MacFarlane defeated John Thibault, by TKO
David Firlotte defeated Kraig Krippa by TKO
Kyle Custer-Jones submits Jamie Lambert by rear naked choke
Eric Sandy defeated Austin Padilla by unanimous decision
Zack Bisallion defeated Konnar Zaygt by split decision
Brendon Crowley defeated Terrance Kaiser by KO
Steph Clelland defeated Jessica Berry by tapout due to strikes
Adrian Sisson defeated Cody Biehl by split decision
Lonnie Harrington defeated Chase King by unanimous decision
Lizzy Crowley submits Julisa Garza by rear naked choke
Cwayne Kidd defeated John McRae by verbal submission