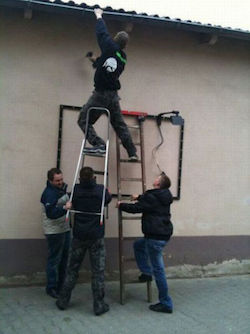 NEWS RELEASE
SAULT STE MARIE INNOVATION CENTRE
*************************
The Sault Ste. Marie Innovation Centre (SSMIC) today announced that
SafetyLynx
, a client housed in the SSMIC incubator offices in the Essar Convergence Centre, has recently launched their solution with great success.
SafetyLynx is a cloud-based, Software as a Service company, providing information and interactive tools for effective occupational health and safety management.
The software provides any company with the ability to manage health and safety online through hazard identification, risk assessment, risk control, tracking of employee training, data reporting, training notifications to management personnel, a library of health and safety procedures and programs for downloading, and procedural guidelines on how to handle unexpected occupational health and safety events.
"SafetyLynx is a compilation of solutions to health and safety challenges I have tried and found effective over my 40 plus years of health and safety management", said Bob Ryckman, Founder, SafetyLynx. "The program is more than an electronic file cabinet. It provides tools to assist management in building and maintaining a solid health and safety management system. It is also a valuable tool for those organizations that intend to pursue the Certificate of Recognition (CORTM) National Health and Safety Standard."
The training module helps track and schedule employee training, and provides notifications to management of required training through email.
Training records are available to the employer, employee, and training provider.
A search tool allows employers and employees the ability to view records of past and current training.
Automated emails are sent to management with reminders on pending expiry dates of past training.

Data reporting, and statistics are accessible based on injury or damage, severity of injury, hours worked, and accident frequencies.
Reports can be emailed to specific personnel within the company or accessed online.

A digital library of safety procedures, forms, audit reports, hazard alerts, and safety inspections, eliminates the need to track down hard copies of documents, while the Unexpected Events module allows any supervisor faced with an unexpected accident, investigation, refusal of unsafe work, work stoppage, or Ministry of Labour inspection, the ability to better understand the procedural guidelines to immediately respond to that incident.

Shortly after launch, SafetyLynx has been well-received locally and throughout the province.
The company is demonstrating the program to several organizations representing construction, municipal, manufacturing, retail, automotive and education sectors.
"SafetyLynx has created an impressive cloud-based solution that provides managers and supervisors with a suite of tools to take control of workplace health and safety," said Tom Vair, executive director, SSMIC. "Bob Ryckman has been able to leverage his many years of experience and deep knowledge of this sector to create a solution that will provide tremendous value to companies."
"SSMIC is pleased to have Bob Ryckman and his company as an incubator client. Bob has developed a unique piece of software that can benefit and cut the cost of doing business in many sectors, including construction and manufacturing" said Gerry Bugyra, Business Development Manager, SSMIC.
The Safetylynx software is available as a monthly subscription online. Please visit
www.safetylynx.ca
for details.
For more information on the Sault Ste. Marie Innovation Centre, or SSMIC business incubator, please contact Diana Medaglia, Marketing and Communications Manager, at
705.942.7927 x. 3138
or
dmedaglia@ssmic.com
.
*************************