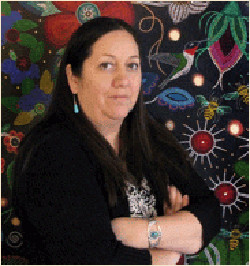 NEWS RELEASE
ONTARIO ARTS COUNCIL
*************************
TORONTO – Visual artist and author Christi Belcourt is the 2014 recipient of the Ontario Arts Council Aboriginal Arts Award.
Created in 2012, this award celebrates the work of Aboriginal artists and arts leaders who have made significant contributions to the arts in Ontario.
The $10,000 prize will be presented at the Art Gallery of Ontario (AGO) exhibition Before and After the Horizon: Anishinaabe Artists of the Great Lakes on Wednesday, July 30 at 6:30 p.m.
The event will also include the unveiling of a new work commissioned from Belcourt by the AGO.
About Christi Belcourt
Christi is a Métis artist based in Espanola, Ontario.
Her work explores a variety of issues, including concerns for the environment, biodiversity, spirituality and Indigenous rights.
Her work can be found in the permanent collections of the National Gallery of Canada, the Gabriel Dumont Institute, and the Nature Conservancy of Canada, among other leading institutions.
Christi's work commemorating residential school survivors and communities, Giniigaaniimenaaning (Looking Ahead), was rendered in stained glass and installed at Centre Block on Parliament Hill.
It is only the second stained glass work to be commissioned for the Parliament buildings in recent years.
"Christi's deep respect for the world around us is exemplified by the synergies between her art and her community work," said Peter Caldwell, Director & CEO, Ontario Arts Council. "We are proud that this year's Aboriginal Arts Award celebrates her accomplishments."
"Now is an important time to honour Christi, her leadership and the gravitas of her work," noted the jury. "Her art and activism cannot be separated. She is an inspiring and vital voice in the community – a humble spirit and a force of nature."
She is currently leading Walking With Our Sisters, a community-driven project that honours murdered or missing Indigenous women.
Touring to 32 locations across North America through to the year 2020, the exhibit/memorial includes over 1,700 pairs of moccasin tops – intentionally not sewn into complete moccasins – that were created by over 1,300 people of all ages and cultural backgrounds.
*************************