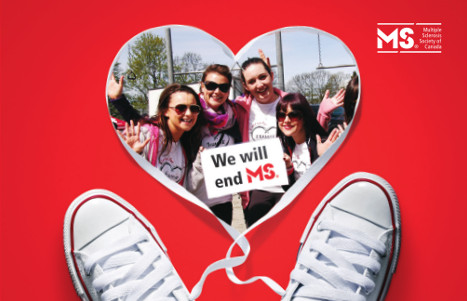 NEWS RELEASE
MULTIPLE SCLEROSIS SOCIETY
*************************
There are 100,000 Canadians living with multiple sclerosis – a chronic, often disabling neurological disease, for which Canada has the highest rate in the world.
On May 4, and April 27 or May 25 in select locations, 18,000 Ontarians will lace up for the Mandarin MS Walk to celebrate a future free of MS – Canada's disease.
With 57 locations across the province, this event offers individuals and teams the chance to celebrate hope, while raising funds for ground-breaking, Canadian-led research and to support services and programs that allow Canadians affected by MS to live better until a cure is found.
"Having MS for the past three years has helped me to put things in perspective. I no longer take anything for granted. My hope is that I will stay healthy long enough to see my grandchildren grow up and share their life experiences. But we need more people to join the Mandarin MS Walk to help find a cure," says Shelley, who lives with MS.
More participants, means more funding for crucial MS research studies such as those that Bravina Kuni, a Doctoral Studentship at York University, is leading: "I am grateful for the support of the generous donors of the MS Society of Canada, which enables me to conduct my research. It is my hope that my research will provide important preliminary knowledge about ways to rehabilitate cognitive impairment in pediatric-onset MS, with the ultimate goal of helping to increase quality of life for individuals living with this complex disease."
The 2014 Sault Ste. Marie walk will be on Sunday, May 4 at the Bondar Pavilion.
This community event raises funds which stay local for those living with MS in the Sault Ste. Marie Community.
The event features fun, food and community spirit.
The Mandarin MS Walk features a wheelchair accessible route supporting participants who use mobility aids.
For a complete list of events and to register, visit mswalks.ca/ontario or call 1-888-822-8467.
To learn more about MS and the activities of the MS Society of Canada, the public may visit mssociety.ca.
About multiple sclerosis and the MS Walk
Multiple sclerosis is a chronic, often disabling disease of the brain and spinal cord that affects 100,000 Canadians – the highest rate in the world. MS is the most common neurological disease of young adults in Canada and three Canadians are diagnosed with the illness every day.
Most people with MS are diagnosed between the ages of 15 and 40, and the unpredictable effects of MS last for the rest of their lives.
The MS Walk, one of the many activities during the 1 Day in May campaign, is a family-oriented, community-supported event involving over 60,000 participants and volunteers in more than 160 communities across Canada.
Each event location has routes of varying length and at least one route that is wheelchair accessible.
*************************