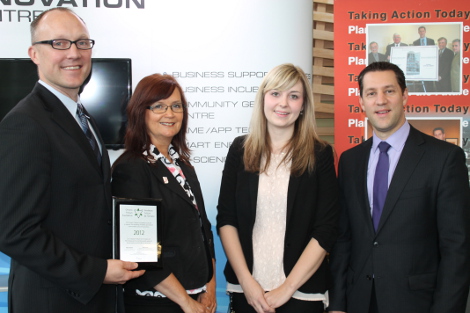 It is considered a major step forward in providing our community's most vulnerable people the help they may need in an emergency situation.
$82,090 in funding from the Ontario government was announced Tuesday to support the Sault Ste. Marie Innovation Centre (SSMIC) Vulnerable Persons Registry (VPR).
Sault Ste. Marie MPP David Orazietti (pictured here at far right with SSMIC Executive Director Tom Vair, Canadian Red Cross Sault Ste. Marie District Branch Manager Diane Lajambe and VPR Coordinator Naomi Thibault) was on hand at Algoma University's Essar Convergence Centre for Tuesday's funding announcement.
Thibault told an audience gathered at Tuesday's event that the Innovation Centre's vision since 2003 has been to eventually have a Canada-wide emergency training model in place to help improve the safety of Canadians who are at greatest risk in emergency situations.
With the local Red Cross office in place as its biggest partner, Thibault said "today, we're one step closer to our vision. In partnership with the Red Cross, the VPR will have the ability to save more lives."
Thibault said the vision for the VPR stemmed from the death of 21-year-old Sault Ste. Marie-born Lewis Whelan.
Whelan lost three limbs and suffered severe burns from a workplace accident, and after rehabilitation, was living on his own and rebuilding his life in Southern Ontario when the prolonged, severe 2003 Ontario blackout left him without the air conditioning he needed to regulate his body temperature.
Unable to contact caregivers, Whelan died as a result.
Thibault said "we have worked since 2003 to ensure no one would suffer the same fate."
Thibault explained to SooToday.com how the VPR works.
"Upon registering with us, people provide us with key information regarding their vulnerabilities, their contact information, their emergency contact information, and we take that information and provide that to 9-1-1, Police, Fire Services, EMS as important additional information in small or large-scale emergencies, like a blackout, a flood or other evacuation situation."
Thibault and the Red Cross are encouraging more people to register with the VPR.
There are currently 159 registrants.
It is a free service, Thibault said, but she emphasized registrants must be living alone (not in a long-term care facility or living with caregivers), and must be clearly vulnerable (living with vision or hearing problems, experiencing mobility problems, mental health issues, etc.).
People interested in finding out more about the VPR and who are eligible to register may visit VPR locations (at the Red Cross, Soup Kitchen or the Sault Ste. Marie Accessibility Office at the John Rhodes Centre), call 705-942-6938 extension 3041, or go to soovpr.com.
The VPR does not, Thibault said, replace services such as 9-1-1.
"You still have to call 9-1-1, but the VPR adds that additional vulnerability information to the 9-1-1 computer screen so that emergency responders are better prepared to deal with a person's special needs before they get to the scene. That information is valuable if, for example, someone in a wheelchair on the seventh floor of a building needs help, and the elevator's not working. First responders will know what extra measures they'll need to take, in advance."
The Innovation Centre's GIS Program Manager Paul Beach told SooToday.com "there is a cost to run the VPR program, but it's saving the province money in the long term. We've found if just three people can stay in their home just three months longer and feel safer there because of the VPR, that's a major factor in keeping them at home, as opposed to Sault Area Hospital or long-term care homes. That saves the province a lot of money per day."
Not to mention the happiness staying at home brings to a vulnerable person!
Beach said 17 countries have contacted the Innovation Centre for more information in regards to the VPR.
Both Thibault and Lajambe said the Innovation Centre's VPR and the Red Cross are working to expand the VPR concept to other communities.