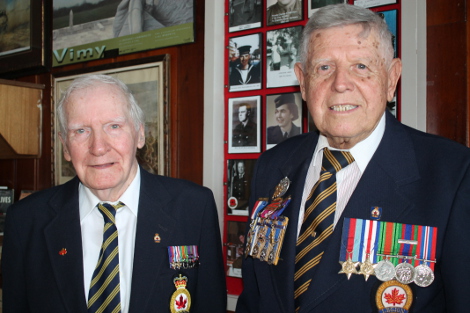 Canadians this week will remember the crucial role our country played in the liberation of Europe from Nazi Germany as Friday, June 6 marks the 70th anniversary of D-Day, the Allied landings at Normandy.
Fred Middleton and Ed Bedard (pictured) are Sault Ste. Marie veterans, members of Royal Canadian Legion Branch 25, who fought on the Normandy beaches that dreadful day.
The bloody but successful establishment of a beachhead on the French coast on June 6, 1944 led to a year of vicious fighting throughout western Europe and eventually into Germany itself, which ended in Nazi defeat in May, 1945.
Allied casualties on D-Day exceeded 10,000, including 359 Canadians killed in action.
The subsequent Battle of Normandy resulted in more than 18,700 Canadians killed and wounded.
Both Middleton and Bedard sat down at the Legion with SooToday.com and spoke of what they experienced that day.
Middleton, 90, was born and raised in Nova Scotia and moved to the Sault with his English war bride (Iris, to whom he has been married for 70 years) in 1947, and worked at Algoma Steel until his retirement in the early 1980s.
Bedard, 90, was born in Coniston, Ontario (part of the Greater Sudbury area) and moved to the Sault with his family in 1932.
Now a widower, Bedard worked for Algoma Steel before and after the Second World War, retiring from the plant in 1982.
Both men have children and grandchildren.
Bedard joined the Canadian army in 1941, Middleton in 1943.
Bedard was a corporal with the Cameron Highlanders of Ottawa, while Middleton was a private with the North Nova Scotia Highlanders.
On D-Day, Middleton went ashore from a landing craft at Juno Beach (one of five beaches where the Allies gained a foothold June 6, 1944, and the one to which Canadian troops were specifically assigned).
Middleton, carrying a heavy pack of military gear, managed to avoid bullets from snipers and waded ashore through choppy water.
"The first day, we got 14 miles in and rode on top of the tanks and the Germans came around a corner…we were lucky to survive," Middleton said.
"You could hear the bullets, a lot of 'ping, ping, ping' coming off the tanks."
"I saw one direct hit…five guys died at once," Middleton said, his eyes briefly watering with tears and his lip quivering as he recalled the frightful memory.
Bedard did not have to wade ashore, but was seated in a Bren gun carrier.
However, his memories of that day are just as unpleasant.
"When we got on the beach, we had to wait for the medics to come in and pick up the people who were wounded and those that were already dead," Bedard recalled.
Bedard said he and his fellow soldiers dreaded many things, including the possibility of hitting a land mine.
"We lost one Bren gun carrier…an 88 (a German cannon) fired off one shot and just disintegrated the Bren gun carrier, there was no protection, nothing."
"When we were all on the ship we were gung-ho, but after a few minutes (upon landing on the beach) we realized what was ahead of us, you knew what it was like to be scared," Bedard said.
"It's hard to talk about, to tell you the truth, it was not a good thing," Bedard said, as Middleton nodded in agreement.
Near Ghent, Belgium, Bedard witnessed the loss of three Bren gun carriers and six men in an enemy attack.
Bedard paused and visibly shuddered when recalling that incident.
Though D-Day was 'mission accomplished' for the Allies in regards to establishing a beachhead, Middleton said there was no consciousness of that at the time.
"We were just happy to be alive (at the end of that day)," Middleton said.
Middleton was wounded by a shell fragment in one of his legs in battle near Caen, and sent back to England.
Bedard fought on with his comrades through Normandy, Belgium and the Netherlands, and also crossed the Rhine into Germany.
Both men remember the German soldiers to be strong fighters, but Bedard recalled "the Germans were more scared of the Canadians than they were of the British and Americans…some of those Germans could speak pretty good English and said 'you guys volunteered to come over here and kill us (as conscription did not occur in Canada until the last few months of the Second World War).'"
"We told them we didn't come to kill, we just did what we were told…you're just soldiers like we are," Bedard said.
Bedard and Middleton said they joined the army out of a sense of adventure and patriotism.
As terrifying an experience it was to fight overseas, Middleton said "I'd go (to war) tomorrow if I was young again…I think a lot of people who love Canada would join up like we did."
"It's love for this country, I wouldn't trade this country for all the money in the world," Middleton said.
Bedard agreed, but, noting the constant unrest and rising tensions around the world, said "I hope there's no more war."
Like many veterans, both Middleton and Bedard have felt compelled to return to Normandy to revisit the scene of the epic battle.
Middleton visited Normandy last year with his family.
Bedard will be visiting Normandy this week to commemorate the 70th anniversary of D-Day, the 12th time Bedard will have returned to the old battleground.
More than 43,000 Canadians lost their lives because of the Second World War.
23,000 of those Canadians killed served in the army, 17,000 in the air force, 2,000 in the navy and another 1,600 in the merchant navy.
54,000 Canadians were wounded.
Known around the world for being a peaceful country, Canada has, nevertheless, gained a reputation for 'getting the job done' in times of war, producing extraordinarily tough, well-respected soldiers, sailors and pilots.
To all our veterans, thank you for fighting for our freedom.