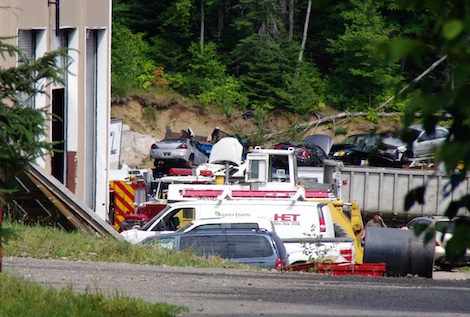 Firefighters with the Sault Ste. Marie Fire Service doused a fire at a scrap yard on Old Goulais Bay Road this afternoon.
The fire, which involved scrap vehicles, produced substantial amounts of black smoke but resulted in no injuries, say fire officials.
The fire occurred in the 900 block of Old Goulais Bay Road, north of Fifth Line.
Earlier in the day, firefighters responded to an excavator fire at a residential construction site on Johnson Avenue.
No one was injured in that fire either, but the excavator sustained significant damage.
Fire officials said that fire is believed to have been the result of an electrical failure.
(PHOTO: The scene of a scrap vehicle fire is pictured Thursday afternoon. SooToday/Michael Purvis)