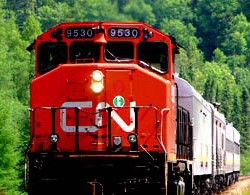 NEWS RELEASE
SAULT STE. MARIE ECONOMIC DEVELOPMENT CORP.
*************************
Impacted by the cancellation of ACR passenger rail? Tell us how.
The Working Group that is attempting to keep the Algoma Central Railway passenger line in operation wants to hear from people who will be affected by the announced cancellation.
With the final run of the Sault-to-Hearst link set for April 29, BDO Canada LLP is helping to draft an economic impact assessment of the service. A stakeholder survey will assist in these efforts.
"We want to know, specifically, how individuals and businesses will be impacted by the cancellation of this critical transportation infrastructure," said Joe Fratesi, Chair of the ACR Passenger Service Working Group, which is vying to secure a one-year extension so stakeholders can come together and look at options that will keep the rail service viable well into the future.
"We want to hear from all stakeholders – whether you're a tourism lodge operator, tourist outfitter or other business owner, or if you own a cottage or parcel of land along the line, or if you're someone who uses the ACR for recreational purposes."
Given the time-sensitive nature of this initiative, responses are due on Sunday, March 23. The results of the survey will be used by BDO in its upcoming economic impact assessment.
Meanwhile, the ACR Passenger Service Working Group also penned a letter recently to the Honourable Lisa Raitt, Minister of Transport, requesting that she meet with representatives from the group.
"Once we have the economic impact assessment from BDO, we want to bring those findings directly to the Minister," said Fratesi, who's also Chief Administrative Office for the City of Sault Ste. Marie.
"We know that cancelling the ACR passenger line will have a severe impact on our region. Having an economic impact assessment from one of the country's leading accounting and advisory firms will allow us to focus in on the specific impact, which will help us make our business case to the Government of Canada and help us secure the one-year extension for ACR passenger rail service."
The ACR Passenger Service Working Group represents a larger committee of concerned stakeholders, including municipalities, First Nations, tourism lodge operators and land owners along the line.
More information on the committee, including the recent letter to the Transport Minister and a link to the stakeholder survey, is available at www.algomapassengerrail.com.
*************************