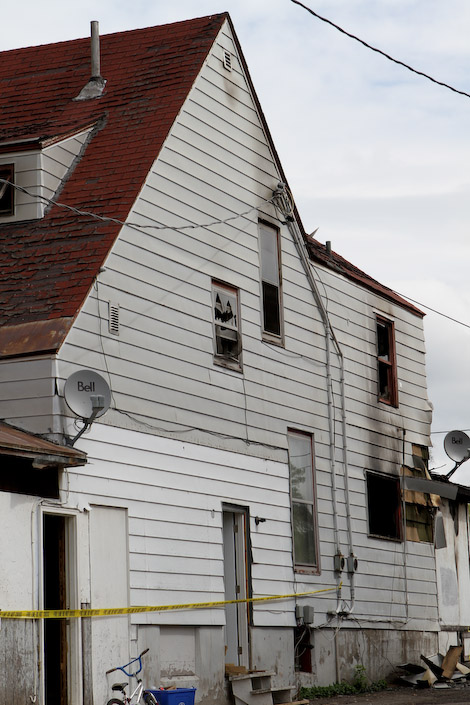 A troubled Illinois man who set a fatal apartment building fire in 2011 told police it was an "impulsive" act, a superior court judge heard Wednesday.
Gregory Flesher was originally charged with second-degree murder in the fire that killed 48-year-old Leeanne Elizabeth Hill on May 19, 2011.
He pleaded guilty Wednesday to the lesser included offence of manslaughter and an original charge of arson with disregard for human life.
Assistant Crown attorney Dana Peterson told the court Flesher lit the fire shortly after coming to the Sault from Waukegan, Ill. and the day after renting an apartment next door to 606 Wellington St. East, where Hill lived.
A number of other people - including six teens and two adults in an upstairs apartment - narrowly escaped the fire, Peterson said.
She told the court it was one of the teens, who happened to wake at 5:30 a.m. to flames outside a bedroom window, who warned others in the apartment.
"By the time he got back (to his bedroom) the room was so full of smoke he couldn't breathe," said Peterson.
Peterson showed Superior Court Justice Ian McMillan a number of photos from the blaze, including ones that depicted the door to Hill's main-floor apartment engulfed in flames.
"That's the only entrance and the only exit to Leeanne Hill's apartment," said Peterson.
A pathologist concluded Hill died of smoke inhalation.
Peterson said the Sault fire sparked an "enormous police investigation," though Flesher's arrest came in September 2011 after he admitted to Illinois police that he was responsible for an earlier arson and an attempted arson in Waukegan.
At the same time, Flesher admitted to setting the Wellington Street fire and spoke to a city police detective who travelled into the U.S.
Peterson said Flesher told police he thought the four-plex next to his new apartment was "seedy" and had witnessed drug dealing there, and that early in the morning he backed his van up to the back porch and set the fire using rolls of foam carpet underlay, fireworks and gasoline.
Flesher described the fire as a "stupid, criminal thing to do," and told police he felt "terrible" for what he did, Peterson said.
"At the end of the interview, he writes a letter of apology to Leeanne Hill's family," said Peterson.
A week before the fire, a city police officer searched Flesher's van and found the carpet underlay and fireworks, but determined the U.S. man was "emotionally fine," Peterson said.
Police in Waukegan had issued an alert asking other agencies to be on the lookout for Flesher, after his wife a short time earlier reported him missing and a possible danger to himself or others, said Peterson.
Peterson said Flesher was becoming estranged from his wife in Waukegan, where the couple lived with two teenaged children, and that the wife told police her husband had recently become unstable and had a problem with drinking.
Following a commercial arson and an attempted arson in Waukegan, Flesher drove north, ending up in Sault, Ont., where he told his wife he planned to look for business opportunities, Peterson said.
Flesher served time for the Illinois arson charges before being extradited to Canada, where he remains in custody.
A pre-sentence report has been ordered for Flesher and lawyers will make sentencing submissions May 16.
*************************
Earlier SooToday.com coverage of this story

One dead in Wellington St fire (6 photos)
Name released in Wellington St fire fatality
Update on fatal Wellington St fire
Chicago-area man admits to setting fatal Sault fire
City Police update on fatal Wellington St fire