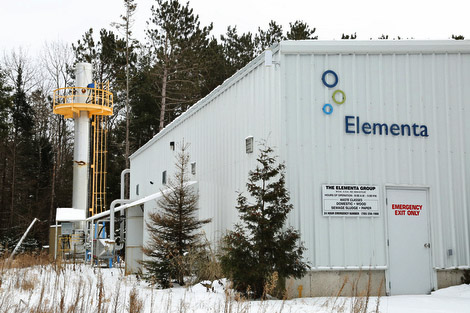 Elementa Group Inc. President and CEO Jayson Zwierschke appeared before City Council Monday to thank municipal leaders for their support of his firm's waste-to-energy facility project.
Sault Ste. Marie MPP David Orazietti announced Friday that the province has reached an agreement through the Ontario Power Authority (OPA) with Elementa Group Inc. to build a new, renewable energy generating facility in Sault Ste. Marie, one that will use a non-incinerating gasification process to turn at least 12,500 tonnes of municipal waste annually into electricity.
That is expected to significantly extend the lifespan of the City's landfill site.
The electricity produced (9.5 megawatts, enough to power up 10,000 homes) will be sold and supplied to the provincial power grid by Elementa over the course of a 20-year contract between the firm and the OPA.
Details of how much the deal is worth have not been revealed.
The facility will also produce fuel for vehicles and aircraft, Elementa has stated.
Council approved yet another lease extension Monday for Elementa's facility at Fifth Line, one that will last through to April 1, 2014.
Council has granted multiple extensions to Elementa over the years while the company went through a long process of pilot project testing and requests for approval from the provincial Ministry of the Environment (MOE).
Speaking to SooToday.com after Friday's announcement, Zwierschke said Elementa is still awaiting provincial granting of an Environmental Certificate of Authorization (ECA), but Zwierschke is optimistic that will come in the near future, enabling construction of the permanent Elementa facility to start by the fall of this year.
With that in mind, Zwierschke appeared before Council Monday with Battelle Lead Researcher Dr. Steve Ricci to help gain not only another lease extension, but also Council's reaffirmation of its official support of his company's efforts.
Battelle is a Columbus, Ohio-based firm with an interest in many areas, including energy and the environment, health and analytics, laboratory management, pharmaceutical and medical devices and national security.
Ricci told Council the Sault Ste. Marie Innovation Centre (SSMIC) first made Battelle aware of Elementa's project.
"We help inventors develop and commercialize their ideas," Battelle told Council, adding Elementa's waste-to-energy technology is "cleaner and cost-efficient…when we heard about it, our ears perked up."
Ricci said Battelle will be marketing Elementa's technology to the U.S.military as a way for it to produce fuel.
While Elementa waits for the final bureaucratic pieces to fall into place before it builds its Sault Ste. Marie facility (with a view to going into operation in 2016), and while Council passed a resolution encouraging Battelle's involvement, Zwierschke thanked Councils past and present, MPP David Orazietti and the late Mayor John Rowswell for the support they had given Elementa over the past decade.