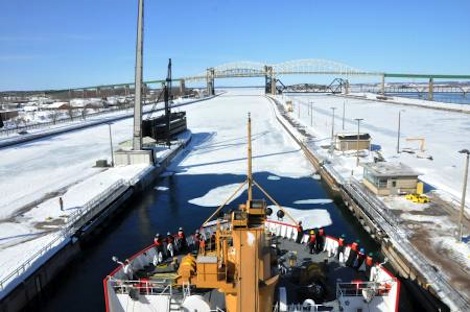 NEWS RELEASE
U.S. COAST GUARD
*************************
The Coast Guard Cutter Mackinaw, a 240-foot Icebreaker homeported in Cheboygan, MI, is shown above passing through the Poe Lock, one of five locks that make up the Soo Locks on March 14, 2013.

CGC Mackinaw was the first ship through the Poe Lock since it closed for annual maintenance in January.

The Mackinaw (WLBB-30) is the only U.S. heavy ice breaking resource assigned to the Great Lakes.
In addition to heavy ice breaking, other missions of the crew include servicing buoys, search and rescue, law enforcement, and the pollution response.
U.S. Coast Guard photo by Coast Guard Academy Cadet Jonathan Young
Accompanying gallery photos show, sequentially:
1) Lights from the Mackinaw illuminate the ice pack off the fantail of the cutter as the cutter spends a night in Western Lake Superior off Duluth, MN, March 16, 2013.

U.S. Coast Guard photo courtesy of the USCGC Mackinaw
2) The Mackinaw breaks through ice that is 16-20 inches thick about five miles off the Duluth shoreline, March 16, 2013.

U.S. Coast Guard photo by Petty Officer 1st Class Nathan Poppink
3) The Mackinaw approaches the Duluth Arial Lift Bridge near Duluth just after sunrise, March 17, 2013.

CGC Mackinaw (WLBB-30) was in the area to break ice in preparation for the start of shipping season.

U.S. Coast Guard photo by Petty Officer 1st Class Nathan Poppink
*************************