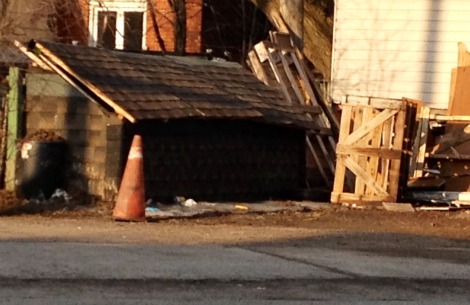 SooToday.com returned to the scene of the stench in the alleyway behind 105 Wellington West yesterday morning.
There's good news and there's bad news.
Good news - the bags of garbage are gone.
The dog logs in the yard are gone.
Bad news - the overflowing bucket of doggy lawn sausages is still there.
It's on the extreme left of our photo.
And, apparently, someone put a real nifty orange traffic cone near it.
We're guessing the cone is to warn folks walking down the alleyway to stay away from the stinking ooze creeping out of the bucket 'o toxic turds.
So, anyone walking down the allyway behind 105 Wellington West ought to take that orange traffic cone real serious unless they want to be tracking the not-so-sweet scent of black banana around with them all day.
Earlier SooToday coverage:
Something stinks. Warning: Gross photos