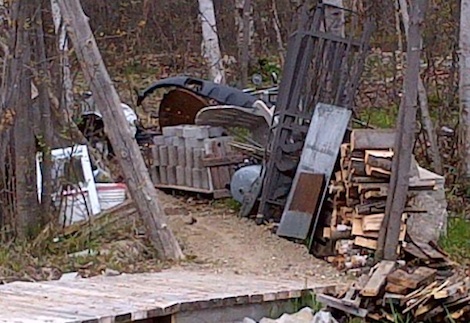 Loyal reader Ruth Tonon has sent us the photos shown and the following.
"This is a collection of photos taken along Sunnyside Beach Road in Sault Ste. Marie, Ontario. This road was originally built by Borden Avery and my Dad Louis was employed by Avery's at that time, circa 1950s '60s. We are so fortunate to have our little paradise at 405 Sunnyside Beach Road and we enjoy spectacular sunsets year-round. Sunnyside Beach is located on the St. Mary's River, a Heritage River, flowing from Lake Superior just west of us.
"The marshland on the opposite side of the road became protected Conservation Land and was named Shore Ridges Wetland. Although there are a multitude of laws in place to protect wetland, they are all but ignored by some residents of Sunnyside Beach Road. The long-standing practice of dumping yard waste has been accelerated by newer residents to include the dumping of construction waste of every description.
"These photos tell a story of ignorance and a profound sense of entitlement by some residents as they continue to build bridges across City-owned drainage ditches to the wetland and City-owned land to dump what they don't want to deal with on their own property. All of these photos have been shared with the City of SSMarie, the Sault Area Conservation Authority and the Ministry of Natural Resources in the Sault."