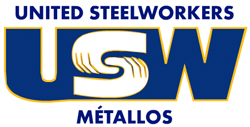 NEWS RELEASES
UNITED STEELWORKERS
ONTARIO NORTHLAND CHAIRPERSONS ASSOCIATION
*************************
McGuinty concedes defeat by resigning as Premier

Plagued by scandal and a failure to lead a minority government, Dalton McGuinty has delivered a final insult to Ontarians by arbitrarily suspending the legislature
TORONTO - Plagued by scandal and a failure to lead a minority government, Dalton McGuinty has delivered a final insult to Ontarians by arbitrarily suspending the Ontario legislature, the United Steelworkers (USW) says.

"By resigning as premier, McGuinty is conceding defeat in his attempts to govern the province in a minority government," said Wayne Fraser, the USW's Ontario director.

"However, there is no justification for McGuinty's decision to indefinitely prorogue the legislature," Fraser said.

"This is a reprehensible and historic abuse of power. McGuinty must respect our democracy, reverse his decision and reconvene the legislature immediately."

McGuinty said Monday he will let the next Liberal leader decide when the legislature will be recalled - an indefinite timeline that could drag on for months.

"McGuinty is subverting our democratic system to shield the Liberals from scrutiny and accountability for the many scandals that have come to define their government," Fraser said.

"McGuinty should face the music, rather than give himself and his ministers a free pass from contempt motions and from investigations into the Ornge air ambulance fiasco and the costly gas plant cancellation scandal," he said.

"Meanwhile, various legislation dies, legislative committee work stops and nothing gets done at Queen's Park."

McGuinty's failure to lead a minority government stems in part from his decision to shift toward regressive policies to curry favour from Progressive Conservative Leader Tim Hudak and his party, Fraser said.

"Much like McGuinty's Liberals, the Hudak Conservatives have been unable, or unwilling, to pursue the co-operation and the policies required to make this minority government work for Ontario families," he said.

*************************
With McGuinty Resignation now time to cancel ONTC Divestment Process - GCA
NORTH BAY - Representatives from the General Chairperson's Association (GCA), which represents all unionized employees at Ontario Northland (ONTC), are calling upon the Liberal government to cancel or at least suspend the divestment of the ONTC after Premier McGuinty's sudden resignation.
"With the Premier's resignation yesterday the GCA is calling upon the Liberal Party to put a stop to the divestment process at Ontario Northland immediately," said GCA spokesperson Brian Kelly.
"Now that the Legislature has been prorogued and with the outgoing Premier stating that it is time to reach out to the opposition parties to find common ground, we believe a good place for that to start would be for the Liberals to listen to Northerners and heed their calls to stop the sale of Ontario Northland," added Kelly.
"Cancelling the divestment process will allow all stakeholders of the ONTC time to formulate a business plan that will not only reinvigorate the organization but allow it to stay in public hands," concluded Kelly.
For more information, please contact Brian Kelly at 705-471-5263 or visit here.
*************************