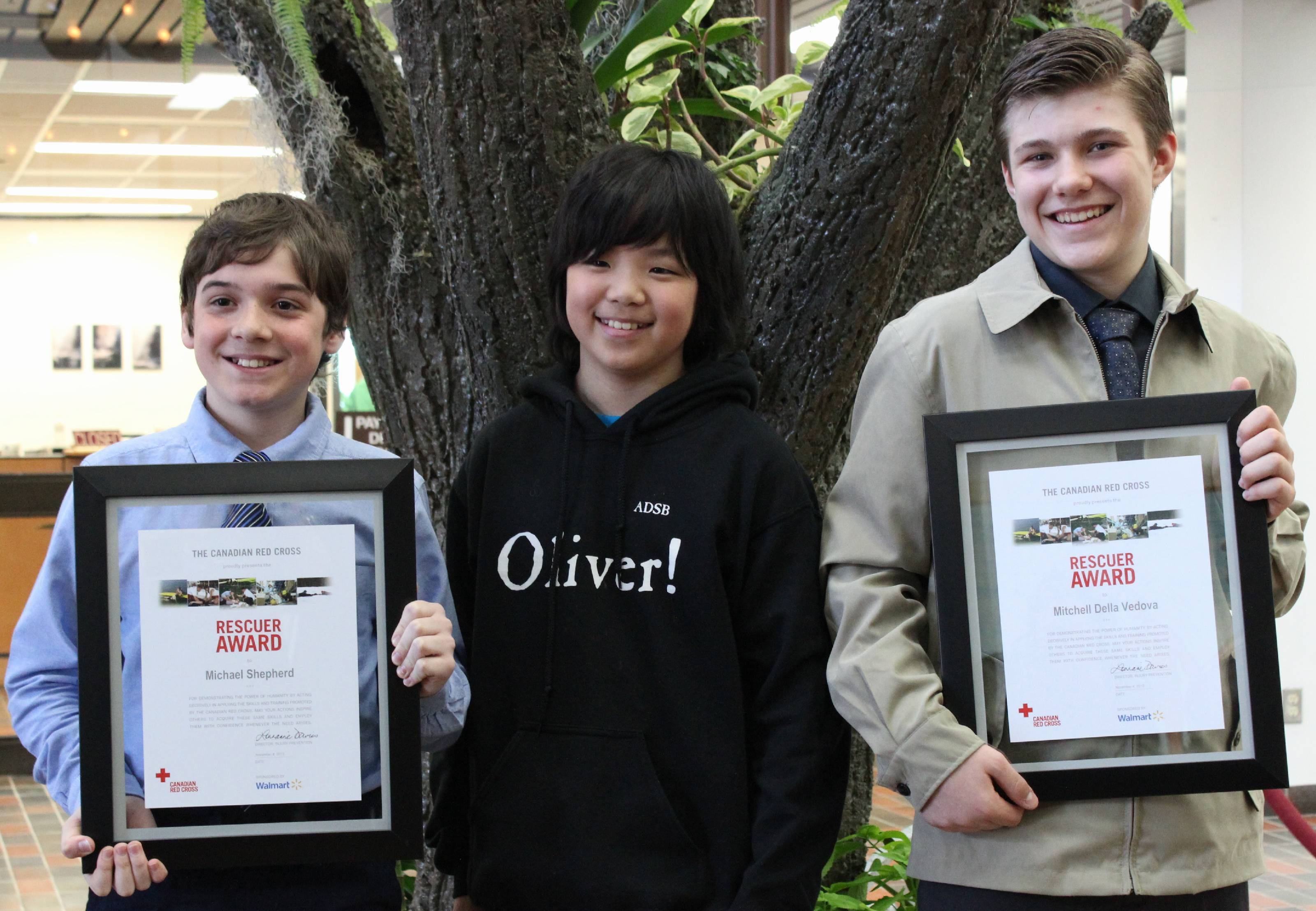 NEWS RELEASE
CANADIAN RED CROSS
*************************
Last night, on April 7, 2014, the Sault Ste. Marie Branch of the Canadian Red Cross presented five individuals with Red Cross Rescuer Awards at the City Council meeting.

The Sault Ste. Marie Branch of the Canadian Red Cross is neighbours with Rosedale Public School.
It is always a joy to look out to the school yard to see and hear the children playing and laughing during recess or physical education outdoor classes.

November 4, 2013, was a very cold and windy day.
Red Cross staff, Lora Lee Serré, had looked out the window and saw that a boy had fallen and wasn't getting up after the bell rang.
Lora Lee alerted another staff, Mara DeFazio, and they both went outside to assess the situation and brought out a blanket.
Another Red Crosser came out with more blankets and observed that Matthew had seriously injured himself.

Meanwhile, Matthew's friends were there to help also.
Mitchell Della Vedova stayed with Matthew while their other buddy, Michael Shepard and Lora Lee went to the school for help.
EMS was notified and so was Matthew's father.

The 3 staffer members, along with Mitchell and Michael ensured that Matthew was kept warm, still, and comforted until help could arrive.
They made sure that Matthew was sheltered from the strong wind gusts.

The following day, Matthew's mother contacted us to let us know that he had broken his ankle and to express her appreciation for the efforts to help him.

So often, when we think of First Aid and CPR, we automatically think of utilizing the Automatic External Defibrillator, doing CPR or stopping the bleeding – all of which are definitely important and vital functions of a first aider; but the first thing learned are the 3 C's – Check, Call, Care.
These first aiders "Check"ed to see what had happened and Matthew's condition, "Call"ed for help, and "Care"d for Matthew until EMS arrived.

Mitchell and Michael demonstrated not only smart, quick action, but also a willingness to help when help was needed.

The Red Cross Rescuer Award is presented to non-professional rescuers or off-duty first responders who have volunteered to save a life, prevented further injury and/or provided comfort to the injured.

All five, the staff Lora Lee Serre, Mara DeFazio, Shelly Masters, and the 2 students, Mitchell Della Vedova and Michael Shepard demonstrated humanity, kindness and action to assist Matthew and to prevent further injury.
It is for this reason that they were recommended and approved to receive the Red Cross Rescuer Awards.

If you have witnessed an off-duty responder or non-professional rescuer, volunteer to save a life, prevent further injury or provide comfort to an injured person, you can call the Red Cross office at 705-759-4547 or visit 105 Allard to pick up a nomination form.
For information about our First Aid & CPR courses visit www.redcross.ca/firstaid or call the Red Cross office.
*************************