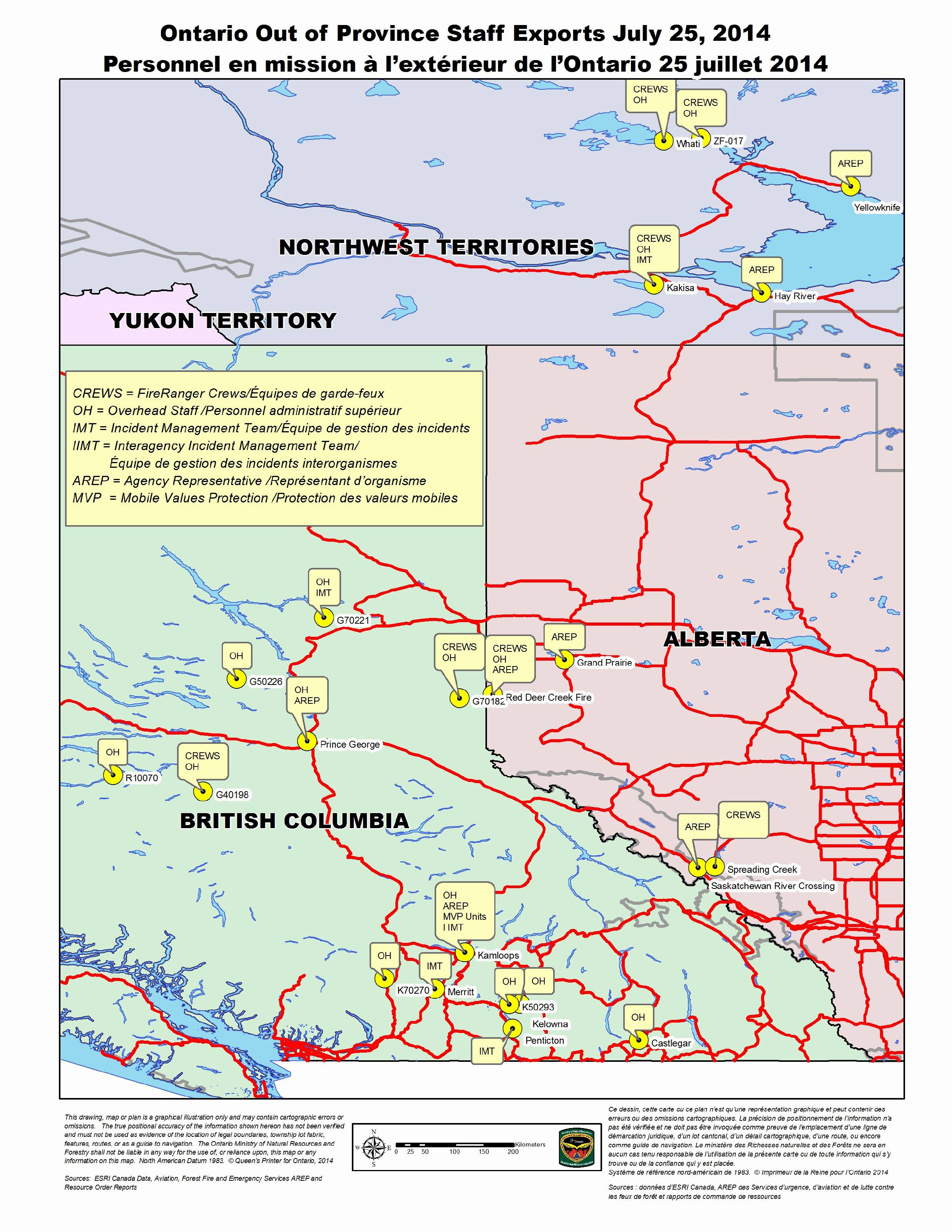 NEWS RELEASE
ONTARIO MINISTRY OF NATURAL
RESOURCES AND FORESTRY
*************************
Northeast Region
New Fires
Lightning-caused fires have been keeping Ontario FireRangers busy.
Six fires were confirmed on July 24.
Sault Ste. Marie 4 is under control at 0.3 ha and is located north of Gordon Lake.
Sudbury 40 is under control at 0.4 ha and is located approximately 35 km north of Massey.
Sudbury 41 is being held at 3.0 ha and is located by the northeast end of Halfway Provincial Park, outside of park boundaries.
Chapleau 13, 14, and Sudbury 42 are both out.
By the time of this report, four new fires were confirmed, two in Sault Ste. Marie and Sudbury respectively.
Sault Ste. Marie 5 is being held at 0.1 ha and Sault Ste. Marie 6 is not under control at 0.2 ha.
Both Sault Ste. Marie fires are located near Algoma Headwaters Provincial Park.
Sudbury 43 is not under control at 0.1 ha and is located east of Azilda.
Sudbury 44 is not under control at 0.7 ha and is located south of Ramsey Lake.
No issues are anticipated with the active fires.
Fire Hazard
The fire hazard is high in the south, but drops to moderate in the far north.
The James Bay area will see cloud cover and isolated showers.
The rest of the region will remain in sunshine with temperatures in the low to mid-twenties.
By the evening, there is a chance of showers and a risk of thunderstorms in the southern sectors of the Boreal Zone.
Regional Synopsis
There are 13 fires currently active.
To date this season, 117 fires have been confirmed, burning a total of 4,079.7 ha of land.
Out of Province Deployment
To date, there are 593 personnel from the Ontario Ministry of Natural Resources and Forestry on assignment in the Northwest Territories (125), Alberta (120), and British Columbia (348) to assist in their forest fire management efforts.
These personnel are from Aviation, Forest Fire and Emergency Services bases across the province and are FireRanger crews, Incident Management Team (IMT) members as well as specialists in areas such as fire behaviour analysis, values protection crews, liaison and helicopter coordination.
In the Northwest Territories, there are 25 overhead staff and 100 FireRangers.
In British Columbia, there are 124 overhead staff and 224 FireRangers.
In Alberta, working for the province as well as Parks Canada, there are nine overhead staff and 111 FireRangers.
Crews are working long hours and will be returning home after fourteen to nineteen days on deployment.
The map above shows the general location of Ontario resources on out-of-province assignments.
*************************